Uganda: FARMERS DECRIES THAT UGANDA GOVERNMENT HAS NEGLECTED THE MOST PRODUCTIVE AGORO IRRIGATION RICE SCHEME TO RUIN.
In the late 18th C. the Egyptian open one of the biggest Irrigation scheme in South of Sarah Africa at Agoro, the then Sudan Eastern Equatorial Province, but today Uganda dictatorial regime has turned the wetland to semi arid desert.
In first edition our story using irrigation farm as tool to fight the climatic change and to improve on food security, our objective is to seeks to investigate how Agoro and other irrigations scheme component is being used to address the  impact of climate change in Uganda.
The story is important in the sense that it will tell the story of how the irrigation is helping to improve rice yields a Agoro. This will in turn inspire other farms in Acholi Sub Region to copy to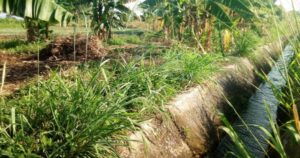 their better yields which then enhance food security of family and regional level.
We shall be able to investigate other Irrigation activities in the region like Tochi Irrigation, Limuro irrigation scheme in Lamwo District, Kibimba Rice Irrigation Scheme too.
LAMWO-UGANDA: Santo Ochira says he became a member of Agoro irrigation scheme way back as he was a young man, when the irrigation was at it peak, it was his main major food production by that time, he was engaged in Maize, millet and Sorghum, but today Ochira looks at  wetland turned to a wasteland.
Mr. Ochira narrative is that by that time the wetland was being used by community, the water was coming from the well and the river Okuru which run from Agoro Mountains ranges. However, in 2005 when the government intervened with aims that they wanted to modernize Agoro irrigation through over head irrigation, instead they drove out the water from all the wetland, Ochira narrates.
Related story link; http://www.blackstarnews.com/global-politics/africa/uganda-design-flaws-paralyze-farming-in-the-us-73-m-agoro
By 1983 AVSI under Ochen Rock who was a farm Manager of Agoro irrigation, he introduced Rice scheme B W 56, K23, Irat Upland Rice and Sindani which was so productive.
"In 1998, we got Rice seed called Supper cash, Gas and it was producing good yields in that year, in each one acre the lat time I was getting 40 to 60 bags of Rice. Maize I was also getting good production about 20 to 30 bags of Maize per season." But this was in the past.
Mr. Ochira decries that this day most famers including himself are miserable living in poverty, "This day we are not getting any production, because Dot.com Company Ltd. Who came to build dreams irrigation, has blocked water channel which used to provide free water for irrigation." Ochira bitterly wondered.
Adding that, they the Dot.com Company Ltd constructed deep water channel about three meter deep the channel that cannot allow water to go to their farms,  he cited that major farmers has abandon their farms. He says Rice production declined from 24 bags an acre to 18 bags, something which has discouraged many farmers adding that the scheme has suddenly become too tired to reward farmers.
He argues that farming activity have subsidize due to poor weather as water drainages dried out.
Mr. Rubella Oryema 42 years old, is one of a bitter famers, when he realized that his voice can be herd or air on radio wave, says take our voice because we have problems. Our farms has been wasted, the irrigation has been a mockery to Agoro irrigation communities.
"We have free water given by God, but we are not using our water because some bad people have their agenda to ruin our irrigation." Oryema decries.
However, the Women MP for Lamwo District Molly Lanyero was very optimistic when contacted, says soon the matter of Agoro irrigation scheme will be raised in the floor of parliament so that government has to reconstruct the waste irrigation again.
She says NUSSAF II there was initiative from president Museveni, but the NUSSAF program did not take off, Hon. Lanyero who look disappointed said.
Agoro self help projected was revised by Uganda tyranny Amin in 1970s, which cover 650,000 hectors of land which is under irrigation scheme. By that time about 10,000 people in the community of Agoro Sub County were growing various assortments of crops like rice, Potatoes, Cassava, Maize, Cabbages and Sugarcane.
But the empathy to grow high food value was mooted by and founded by African Development Bank; the government of Uganda came in for a joint venture project which was agreed at the tune of UGX 27 billion.
According to Lakot Susan the community of Agoro says this might cause the deserter, because Agoro irrigation is own under customary land ownership. However, community claimed that according to decentralization policy the government want grabbed the land of which the irrigation sit on be own through land tenure land title deed.
Ms. Lakot says so, Lamwo District authority they want the land to be own by the Lamwo District Land Board, but the challenges is, the issues land title it quite challenging. There is a lot of challenge during the planting and the actual contraction there was a missive that the land will be taken by the government, Ms. Lakot alluded to.
Richard Komakech Lamwo District   Environmental Officer revealed during an interview that there were key activities that should have been done, like level the land, so that people who do not want their land to be open could benefit when their land is open, he reasoned.
"They thought the governments want to take up their land; therefore, they preferred traditional method of using water direct to their land or farm land. Bu the government of Uganda wants to level irrigation, often there various water channel that goes through blocks, so is that some of the things was not done.
Lamwo Environmental Officer says, so when they open the facilities, water reaching their farms does not go direct, now they are taking government in bad fate.
Environmental officer who later resigned from work because he was under pressure from the government why did he talk to the media, says they community that should have benefited from Agoro irrigation scheme, have not been benefited because the underline issues mention above.
Other underlined issues was that the policy which was  put to stop environmental degradation ,such as  National Environments Act, the Forestry Act, the land Act, the Physical planning Act, and many others.
Komakech Environmental Officer concluded that  the district land Act is also being used to stop logging and charcoal tree cutting , says there has been a total ban put in place , but order from above, the  power that be does not owner such laws that has been put in place.