UGANDA: GULU TIMBER INDUSTRY IS A BIG SPIN OFF FOR ECONOMIC INVESTMENT BENEFIT, NORTHERN UGANDA-TEE MD LEARNED.
Mr. Langoya Council Dickson is one of Uganda Timber Grower Association in Gulu is proud to say that in three years time, Gulu City will have Timber Industry from his 130 hectors of trees.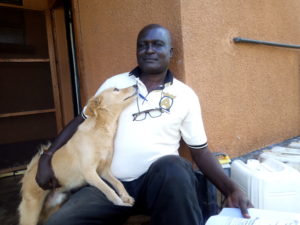 Opok National Forestry Authority, the plantation privately own by individual  so far one of the biggest private own Timber Industry  base in Omoro District is show case for local investment in Northern Uganda.
During the just concluded Northern Uganda-the Emerging investment Frontier conference in Gulu, Agricultural experts has been debating on how to explore partnership and identify high-growth investment opportunities that will generate economic, social and environmental returns.
GULU-UGANDA: According Mr. Langoya even Europeans who pay visit to his forest; which is 130 hectors of land, would shake his head in wonder, says they do not believed that this pine tree is just 11 year old. They say in Europe because cold weather it would takes 40 years for the trees to grow to this size.
Oyeng Yeng News tracks Mr. Langoya the former commissioner for National Forest Authority to his farm, Opok Forest in order to understand, witness a local investor in Timber Industry to have an interview.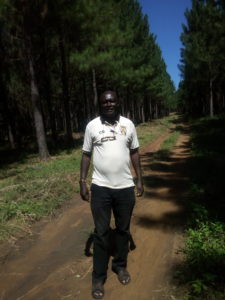 Verbatim
Question, Mr. Langoya tells me who you are, and what made you to start forest investment.
Ans. I think forest is in the family set up, my father D. k Langoya of Pallabek Kal, Lamwo District he was the trained Forest Ranger in 1939 to 1942. Those were the rained first Nyapyea Forest College pioneers students in Uganda.
My father retired from the services in 1966, he became Tobacco farmer, and produced the best Tobacco in Palabek. Even in these days he would plant his own tree for Tobacco, I was born during Uganda independent.
My farther used to tell us that tree planting is very good and profitable and good protect environment. He was telling us that please plant tree and you can use it for other domestic purpose.
But by good coincidence when I joined Makerere University in 1985 and completed in 1988, later I got degree in Master MSC forestry in Environment and Management from University of Abaden Scotland in 2000.
This bring me into the question why I am interested in forestry I have learned on farm, but the main reason why I took in tree planting came in 2006.
The reason is this father used to tell me, but for me I do is scientifically through planning and through calculation, through economic projection as I retired in 2004.
Much as I had wanted to plan tree, I was doing it in small scale. When I did project count flow in 100 hectors, I learned that investment tree growing make more return investment give you better return and going also to show after 5 or 7 years, cost of production drop by 96 percent.
And the vales of trees are exponential. Let me show you all the figures I invested in the farm. In forestry the interest ranges between 17% to 30%. For example, if I put money in fix deposit, interest is between 5% to 8%. Even this NSSF guys the interest given is 15% to 18%.
Interest rate I am now getting is much better; I called it my second pension.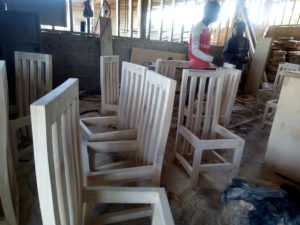 Initially I didn't want to start investment, but my wife and I gave our serving to invest in forest faming.
Now, point number one, my planting of the forest was economic, but it has a big spin off, the greatest spin off is absorbing carbon dioxide which helps global warming.
Some people come from a distance of 10 kilometer in order to take branches of pine tree, we don't ask for money from them. The important things a lot of people in the community within the surrounding area have learned how to plant tree and protect them.
When they see from us what we do, when we are weeding they also begin to do weeding, when we are planting, they also do planting and when we are making fire line, they also learn from us.
Question. When did you start process of planting, how much did you put as the capital in forestry investment, how much are you expecting to get from this timber industry?
Ans. We started planting in 2006, it's about 13 years, and probably we have put about UGX 350 million in 13 years. But I must adds something UGX 100 million came in term of grant from European Union to help us to do the job out of UGX 350 million we re-invested the money
This table and chairs are the products of Langoya Council Dickson, the workshop is located in Pece Gulu outskirtI got grant for log Saw machine production from the European Union on loan, so the Log Saw machine cost money later that fund was re-embraced.
Half of the money is payable in 2 years, the grant from European Union facilitates you to maintain your crop; if you don't follow the weeding and maintains process they will not refund your money. That is standard which I have kept it up to now.
When it comes to fire protection the community come to help me because we have given them a lot of jobs, and we have conducted lessons for them.
The question of market, to me the market is a bit of challenges. But it's available; I am targeting the market of Gulu. Amuru and Omoro districts.
The challenges we have now is under size timbers supposed be 6 by 2 inches, but most of them are not even 6 by 2 inches, its 5.2 inches. If timber of 12 inches it's reduced to 10 inches, because the markets is flooded with illegal timbers and young tree, it's  major concerns.
However, our plan is to make sure that we get the right age of trees and make sure that we cut the right length. We expect to use machine which are reliable, so that we promote quality products.
v