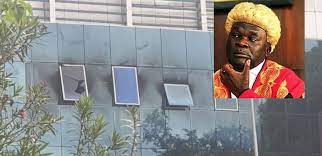 UGANDA: CHIEF JUSTICE OWINY DOLLO CIGAMOI OFFICE BURN- WE ARE COMING FOR YOU!!!
Chief Justice Supreme Chamber burnt, is that statehouse Mafia?
The mourning fired breakout that charter the image of Uganda Jurisprudent after 50 years, the scene of the kidnapped of the former Chief Justice Benedicto Kiwanuka arrested by Uganda dictator monster Idi Amin. 50 years later yet another dictator Museveni Mafia come for Justice Owiny Dollo in another episode
Okumu Langol Livingstone political pundit   
KAMPALA-UGANDA:  Report coming from the ill-fitted arson of the Uganda Supreme Court reveals that the fire breakout from one of the circuits of eclectic power, burn down court documents in the office of Chief Justice, fortunately Justice Owiny Dollo was absent, sources intimated.
According to an eyewitness account, the cause of the fire was when a lady working in Chief Justice Chamber, swift on the socket, and it caused a short socket. And eventually fire explodes out, an eyewitness confirmed.
The report indicated that when the fire gutted his office, Justice Owiny Dollo was not present.
The breaking news of the ill-fitted attempt of possible fire incident came out in most of the Acholi whatsapp platform, there has been public outcry.
Baker Ochola Jr, says just a few weeks after the demise of Jacob Oulanyah, the Acholi community do not understand the danger of working with the NRM regime.
"For those people still working with the monster when they are killed, we cannot mourn them." Ochola lamented.
Opiyo David, the fire gutter of Uganda Supreme High Court Chamber it an attempt assassination of Justice Owiny Dollo, this the message indicating that we are coming for you." The mafia just has sympathy not to harm Justice Owiny Dollo, because Speaker, the late Jacob Oulanyah, his memory is alarming.
Others say, the Acholi community working in civil services should abandon their jobs, but, those are short strategies, many sons and daughters of the Acholi community are in self political asylum. They have left and fled the country because of the harassment of the NRM regime when they shot their way and captured the government in 1986.
Thousands of innocent people were burned alive in Kampala streets, they were called Anyanya.
The attempt to contact Chief Justice Owiny Dollo Cigamoi was futile, as his known contact was out of reach.