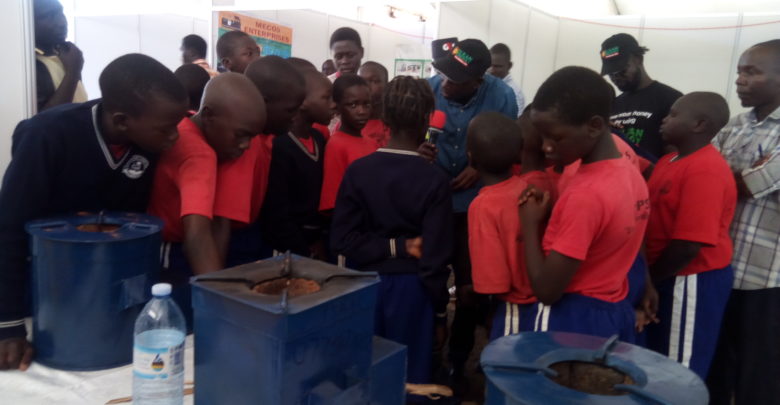 UGANDA: AID AFRICA, NGO GIVES 5000 ENERGY SAVING STOVES IN AFRICA.
AID AFRICA a Non- Governmental Organization base in Gulu City, Northern Uganda giving Energy Saving Stoves free of charge to community to help vulnerable people who cannot afford fuel or electricity for cocking.
When you use our energy saving stoves, the effect of climatic change that comes as result of biomass effect, would be reduced. The rich buy fridges to help themselves take cool water and fans to live in good condition, but the poor people are unable to reduce the  effects of smokes while cooking to protect their eyes which later lead to infection.
GULU-UGANDA: Kaunda Grounds holding public events in Gulu City has been a white collar Elephant for years, Gulu Municipality and the government uses it only to host public functions.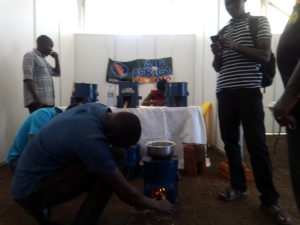 However, Uganda National Renewable Energy and Energy Alliance turned the usual Kaunda playing ground that used to hold only public functions into  Clean Energy (Renewable  Energy) Expo, to a one day visitor in Gulu would think that the place is made for International Trade Fairs.
http://oyengyeng.com/2019/09/05/uganda-unreeea-draws-northern-uganda-to-renewable-energy-promotion-campaign/
Uganda National Energy and Energy Efficiency- UNEEERA booked a week long expo at Kaunda ground to host Gulu City Trade Fairs, according to Richard Kyorakunde of Public Relations Knowledge the consultancy firm  reveals to Oyeng Yeng News that Gulu expo promotion is a success story.
When you are in Kaunda ground Gulu Clean Energy Fairs , you could see hundreds of buyers walking out with Energy Saving stoves.
http://oyengyeng.com/2019/11/06/uganda-unreeea-launches-clean-energy-campaign-in-gulu-for-energy-expo/
AID Africa NGO, based in Gulu Laroo Division their stool is a beehive streaming with customers who come to either acquire knowledge or buy at least a energy saving stoves from them.
Robin Ochen is a Marketing Officer of AID Africa NGO, says they have two types of energy saving stoves, bricks stove and rocket stove. The main aims are to have a clean conservation of environment  and to promote a sustainable energy saving since it uses little pieces of fire wood for cocking.
Adding that at the same time the stove you see here has reduced health related risks, like chest infection, eyes itching.
"These stoves have reduced the cases of house or huts burning because the fire has been a constraint and every time in our place we had cases of house burning." Ochen reiterates.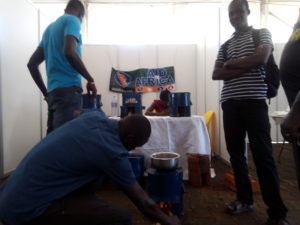 Ochen reveals that they also soon implementing environment mitigation in the community since some people have already installed energy saving rockets and bricks stoves in their restaurants.
"Of course it has also reduced down the cutting of trees in some of the places, with improved stoves we give to the community; so far we have distributed 5,000stoves in Acholi Sub Region." Ochen notes.
In Gulu District, places like Awach Sub County, Paicho Sub County, we have distributed to them too. In Omoro District places like Koro Sub County and Amuru District we have also given energy saving stoves in Lamogi and Lamogi Sub Counties.
Adding that the distribution of the energy saving stoves still to continues and communities have embraced it.
Uganda: Use of Renewable Energy Sources Still A Night Mare Among Gulu Residents-Survey
Isaac Okello Lamunu the Program Manager for AID Africa says the organization started to help the community since 2005 which has been in existence.
He advised that although in the expo promotion, energy saving stoves bricks stove is being sold at UGX 50,000, but to community they give it free after training them.
"When you see the effect of climatic changes, the rich buy themselves fridges and fans to keep themselves to take care of the condition of clean environment, they live in good health, but the poor people are languishing in hazard environment, this energy saving stoves reduces effects of smokes, to protect them from getting infection." Okello alluded.
Margret Adong who came to buy solar panel from Paicho Sub County in Gulu District says she is one of the beneficiaries. Adong says they were mobilized to attain the energy saving stoves during training, they were taught how to use the energy saving stoves and later they were given.
"In our areas in Paicho Sub County we used energy saving stoves; it has helped us to cut and reduce tree cutting." Adong lamented.