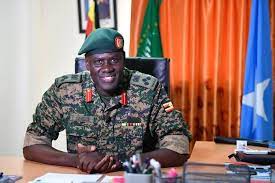 UGANDA; ACHOLI PARLIAMENTARIAN DEMAND INDEPENDENT TOXICOLOGY BEFORE THE BURIAL OF GEN. PAUL LUKECH.
No clear position, the death of Gen. Lukech caught Ugandans and hits them like thundering storm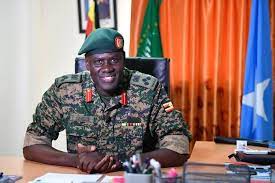 Chief Justice Alfonso Owiny Dollo Cigamio, demand thoroughly investigation on Gen. Lukech death, meanwhile Acholi Diaspora led by renounced singer Genfar Lawala calls for arms struggle to remove Uganda autocratic rule.
Condolences attributes pour all over the world from Northerners living abroad emulate,  "the Lion of Mogadishu."
UGANDA: The shock wave of mourner strike Acholi community with the death of Gen. Paul Lukech on Tuesday August 21, 2021. At 10.30 AM local time, at his home in Kitifumba, Kiira Municipality.
According to family sources, while dying, the family said. "The two star general, said Am loosing my breath", and died.
According to the Uganda People's Defense Forces UPDF, the general died of blood clot. However other independent sources verified that Pulmonary Embolism (lung clots), which the general succumbed to is a complication of fracture especially involve long bones.
In a warding statement by Jenifer Lawala, sent her  message from  United Kingdom to  Acholi community, asking MPs, religious leaders, cultural  leaders of various denomination to come out and demonstrates their willingness to save our community life of Acholi community  demand for the blood clots of the Gen. Lukech and others fallen hero in Acholi.
"Langoya too pa litino Acholi wateyo ning ning? It has reached a place of no return, which is going to defense our land. Acholi are discipline community. Acholi in the past, when such abomination strike community, Agat was performing, how the body of Gen. Lukech is going to receive in Acholiland, how is he going to be lay in the grave." Lawala ended her cry.
Hon. Antony Akol, when asked says at the moment I am still attending High Court petition in Gulu, "the Gen. Lukech matter our position is known." Before hurry to Court room.
Okumu Karac Ci Rac, one of the National Resistance Movement party, NRM supporters in Gulu City, says the support Acholi has been surrender to the current government has been wasted in vain,
"Where we have reached with the death of Gen. Lukech, Ange tyene lit the theory (Okumu Karac Ci Rac 2021. had I known has painful leg),  the pheromone event that Gen. Lukech and the whole sons and daughters of Acholi have been fighting side by side to defeat National Lord's Resistance Army, LRA war lord Joseph Kony, Gen. Lukech and all his teams has fought for nothings."  Okumu Karac ci Rac lamented.
Okumu argues that the back fire would Ange tyene lit, would be felt by the Kampala regime, just only 8 month after January 15, Presidential and General Parliamentary polls, when Acholi Sub Region voted overwhelming in support President Museveni, then of suddenly they are paid them just to received the Gen. Lukech casket.
How Gen. Lukech was appointed Deputy Inspector General of Uganda Police, in December 2020, the right hand man of Gen. Salim Saleh, President Museveni younger brother introduced Gen. Lukech to Gen. Saleh who has pitched camp to oversee January 15, 2021 president polls.
"The five of us was arranged before Gen. Saleh, later Gen. Lukech was asked if he can take up the post of Deputy IPG, but he, Gen. Lukech demand that he can only accept the post of Deputy IGP if his Somali right hand  one Bridger Muhangi can also be part of his team." Sources say because Bridger Muhangi knows urban terrorist warfare, so Kampala City can be handling.
Okot Mike, one of the closed associate of the late Gen. Lukech, decries really and like others Acholi sons and daughters. Says we mourn Gen. Lukech, but we really blame the medical doctor who had handle Gen. Lukech treatment from Reggby treatment Center where Gen. Lukech trusted them.
"If indeed he got poison injection from the doctor who treated him from his leg injury, then the person who killed Gen. Lukech wanted to kills President Museveni too. When we met President Museveni in Statehouse during Apaa saga, we told President Museveni that Apaa issues had become Lango issues, because the Uganda Police Forces who was heading Northern Region Police Force was a Langi, the Minister of Land Betty Amongi who is also a Langi, Gulu Central Police Station Officer in-Charged was also  a Langi. Then President Museveni told us, let me talk to Bridger Lukech, who was the Division Commanding officer of 2sd Mbarara Division western Uganda." Okot says the trust President Museveni has in Gen. Lukech.
Okot feather revealed that when President Museveni picked his phone and rung Gen. Lukech, there were numbers of names the late Gen. Lukech proposed, but President Museveni rejected all names, only he demanded for Col. Ogik to be deployed in Apaa to make independent investigations.
"Whoever has hand in killing Gen. Lukech wants to topple Museveni government," to best of my knowledge Okot decries.
There are four political school of though according to the inside sources how Gen. Lukech might have met his demise.
The first theory, Gen. Lukech arrested six suspects who master minded the Gen. Katumba Wamala, of which four suspects were liquidity, but the two suspects who are still under police detention, revealed shocking top secret information indicating who sent them to kills Gen. Katumba Wamala.
Okullu Sunday says later Gen. Lukech hold party to celebrate the top information which landed in his docket.
Okullu says the second theory, Gen. Lukech before he met his demise, went and presented 20 pages document to the President Museveni, the rot inside Uganda Police Forces, this shocked President Museveni how the mafia within Uganda Police Forces are under minding corruption using proximity of kitchen cabinet.
Adding that Gen. Lukech heart power went viral and it hurt power within cabinet kitchen, Okullu intimated.
The third theory, those who might lay their hand, to slain Gen. Lukech, unknwon factor
The fought theory, Gen. Lukech have been very elusive, his closeness to Kampala regime has some things to be the causes of his demise.
Let us wait what would have come out from the family.
However, when Lt Hassan Kato, the Spokesperson for UPDF, Gulu 5th Division referred more detail to either Uganda Police Forces Spokesperson or Bridger Beyakwaso UPDF spokesperson.