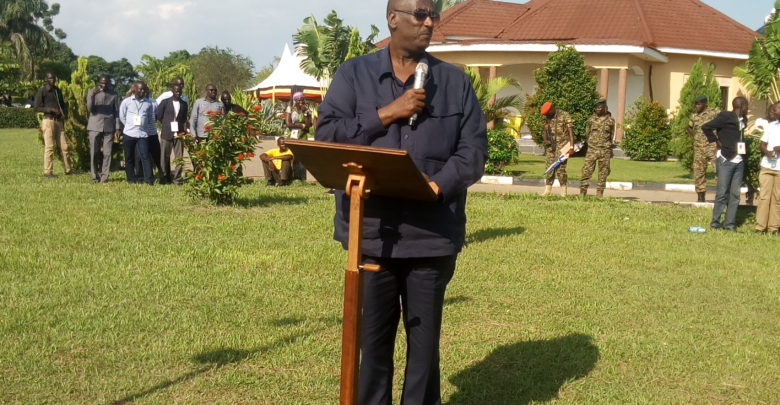 EDITORAL: WILL MUSEVENI DESERT TOP ARMY GENERALS ONLY TO WIN ELECTION IN 2021? LT.GEN.OTEMA AWANY Vs GENERALSALIM SALEH.
On July 16th 2019 from Tangi village, Purongo Sub County in Nwoya district Savio Ojok Awany who died at 79 years old was buried at his ancestral home.
GULU-UGANDA:  On July 16th 2019 from Tangi village, Purongo Sub County in Nwoya district Savio Ojok Awany who died at 79 years old was buried at his ancestral home.
Awany is the father of Lt. Gen.Otema and Richard Toodwong the National Resistance Movement party deputy general secretary.
Tenths of high commanders of Museveni`s Uganda People`s Defence Force-UPDF took part in the memorial event. Among them was General Salim Saleh who is Museveni`s brother and commander for Operation Wealth Creation.
At the burial, the high commander of UPDF General Saleh and Otema faced off over accusations of political influence meddling and undermining agriculture which has been the president`s key message to Ugandans.
In his address to the mourners Gen. Saleh ordered his counterpart Otema to leave politics and interest in the security affairs and wealth creation agenda of the UPDF. This was a subject Otema vehemently rejected.
It was questionable why Gen. Saleh a member of the first family would reject Gen. Otema`s involvement in politics which has over the years been seen as a promotion of Yoweri Museveni agenda and the ruling National Resistance Movement-NRM party.
The NRM politics is killing Operation Wealth Creation, what you have been saying (relating to Gen. Otema) here are lies, all political parties are telling lies". He argued.
Analysts question the authenticity and the intentions of Gen. Saleh`s concern. Does it represent the first family where president Museveni belong or the state security agency, UPDF??
Gen Otema openly without respect of salute to his commander as required in the military hierarchy of command swiftly responded to the concern and spoke to Gen Saleh`s face that he will not leave politics and go to farming.
However Otema failed to mention reasons why he is holding that position without fears of its consequences.
Early this year president Museveni appointed Otema Awany as overseer of the 2021 presidential polls funds in northern Uganda, but not even after the commencement of the presidential duties, General Otema and Saleh are already bickering over the political arena across wealth creation.
All these are beneficial for the ruling NRM regime but now which takes lead and what should be dropped?
Something questionable and tricky as the 2021 general elections approaches.
However undoubtedly Uganda is a no one man`s land and constitutionally every citizen is bond to the rights to freedom, politics and opinion.
All the senior commanders in the UPDF and close associates to the president do not require protocol to meet the president but can access at will and at all times even with a mere phone call.
The question is; Is Gen Saleh`s order to Otema an indication that even the 10 UPDF representatives in parliament a nuisance to the country`s development?
In a twist of event from the same ground Justice Owiny Dollo Cigamoi, the deputy Chief Justice also ordered Gen Saleh to leave his farm in Nakaseke which he mockingly he described as "Prison Farm" and pitch camp in Northern Uganda to monitor Operation Wealth Creation.
Is this another retaliation in support of Gen Otema`s submission to continue with politics rather than farming?
Several political pandits in Acholi Sub Region are equally demanding that Gen Saleh provide accountability for money meant for Operation Wealth Creation instead of poking his nose in Otema`s political will.
Opinion leaders say Gen Saleh`s unexpected command is an indication of fear that having political diehards in higher ranks  like for Otema will jeopardize their intention to grab land in Acholi Sub Region which among them is Gulu Airport.
It was Norbert Mao Democratic Party Presidential General who opened a Pandora Box by saying that the late Savio OjokAwany whenever they (politicians) had disagreement with Lt. General Otema.
In somber mood and tone, Mao said the savior now lies motionless in a casket yet they would run to him for help whenever feud ensues.
''I don't know who can be our court of Appeal, because in every election we would be having serious problems between me and Lt. Gen. OtemaAwany.'' Mao cried.