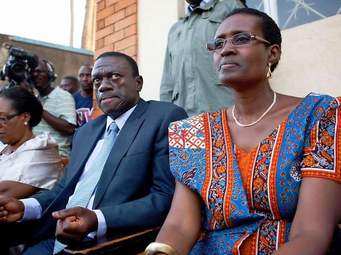 Trending
UGANDA: Wife of Opposition Leader Kizza Besigye Scoops Top UN Job
The wife of opposition party leader, Dr Kizza Besigye of the Forum for Democratic Change (FDC) has been appointed head of the United Nations Programme on HIV/AIDS (UNAIDS).
Winnie Kizza, 60, was appointed on Wednesday by the United Nations Secretary-General, Antonio Guterres after a comprehensive selection process that involved a search committee constituted by members of the UNAIDS Programme Coordinating Board.
The Joint United Nations Programme on HIV/AIDS (UNAIDS) leads and inspires the world to achieve its shared vision of zero new HIV infections, zero discrimination and zero AIDS-related deaths.
It unite efforts of 11 UN organizations-UNHCR, UNICEF, WFP, UNDP, UNFPA, UNODC, UN Women, ILO, UNESCO, WHO and the World Bank.
Byanyima who has one son with Kizza is among the co-founders of the biggest opposition FDC party that has for years seek to oust President Yoweri Museveni who is also party chairman of the ruling National Resistance Movement (NRM).
According to UNAIDS, Winnie Byanyima succeeded with her an outstanding more than 30 years of experience in political leadership, diplomacy and humanitarian engagement.
UN Secretary General Antonio Guterres says the appointment came at a critical time in the response to HIV which is a public health threat that should be ended by 2030.
The appointment has excited the Forum for Democratic Change Party (FDC). The party says they are pleased upon the success noting that they have confidence in Byanyima.
Nandala Nathan Mafabi, the FDC spokesperson says Winnie is a competent woman with leadership skills and will undoubtedly work tirelessly to solve the HIV epidemic which is a challenge in the world`s development.
Nandala disclosed in a statement that the appointment of Byanyima is a joyful move to the FDC party to where she is one of the founding members.
Before the appointment, Byanyima was Executive Director of Oxfam International since 2013. Prior to that she served for seven years as the Director of Gender and Development at the United Nations Development Programme.
She holds an advanced degree in mechanical engineering (in energy conservation and the environment) from the Cranfield Institute of Technology and an undergraduate degree in aeronautical engineering from the University of Manchester.