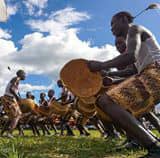 UGANDA: WE ARE TURNING OUR 23 TRAD ITIONAL DANCES TO ATTRACT WORLD TOURISTS- ACHOLI PRIME MINISTER.
Let us turn the most aspects of beautiful Acholi cultural to attract the global tourists.
GULU-UGANDA:  The Prime Minister of Acholi says for generations we have not been marketing the rich  culture of the Acholi people.With our top traditional cultural heritage rated very highly,the third Acholi cultural festival was last week in Kitgum Municipality.
Ambrose Olaa, the Prime Minister of Acholi says Acholi traditional festival is a platform that can be used to sell Acholi rich traditional.
"You know Acholi has the most world traditional dances and you are aware, we have documented 23 cultural dances. Dancing and songs always send information and knowledge." Olaa said at a press briefing in Gulu.
The Acholi Prime Minister says they also have wide range of foods, different art crafts, clothes and medicine that during the third Acholi Cultural Festival in Kitgum were widely displayed.
Olaa warned detractors of the Acholi traditional value, that in the fast moving world foreign tourists can be attracted to annual festival that drew thousands in the previous two festivals.
He disclosed that Uganda Airtel sponsored UGX 30 million and many other assortment items which he did not mention them, Uganda Breweries Limited committed UGX 20 million towards the third festival.
Other sponsorships came from Total Uganda , who gave 20 balls for the event football tournament,to enrich festival.
This year's festival which drew fewer audience than the previous two had 3000  performances lined up.Between 15,000 to 20,000 people were expected to grace the occasion at which   Rwot David Onen Acana II was chief host.
Denis Wokorach the Manager Uganda Breweries Limited for Northern Uganda said as UBL we are committed working hand in hand with  Ker Kwaro Acholi, and has given a contribution of 20 million shillings for this year festival.
Christopher Ochowon the Public Relations Officer of Total  Uganda  said, Total came in this year to support the event through sports,because Total as the top world cup football sponsor,they chose tho support a sporting activity.
The theme of this year's festival was "my heritage my strength"