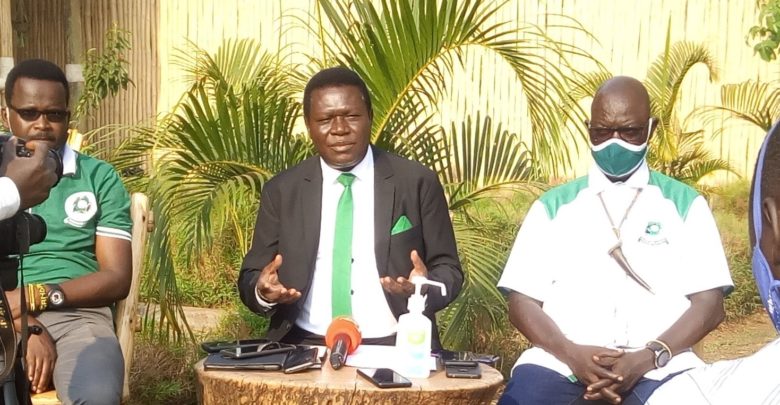 UGANDA: UGANDA ELECTION OFFICIAL MURDERED IN $ 54,000 (200M) MONEY –SCANDAL AHEAD OF RESULT DECLARATION.
The late Tabu Robertson, the In-Charge of Regional Data in Gulu city refused to create non polling voting center
The Uganda Opposition leaders are concerned that the January 14 presidential general election has been rigged by Uganda tyrant Museveni handpicked Chairman of Electoral Commission smuggling election materials, including ballots boxes and voting papers for presidential and parliamentary ballot papers.
 I am contesting against Uganda dictator Museveni who has turned Bank of Uganda into his MTN mobile money.
GULU CITY-UGANDA: The shock and horror grieved Friday Afternoon after news ribbed through Gulu City Council Electoral Tally Center of the murder of an electoral official.
Robertson Tabu 30 was kidnapped on January 8th while he was leaving Electoral Office in the evening when a car with tinted glass arrived and assailants kidnapped him.
His body was found on Jan 15th lying in the eucalyptus forest near a City Lagoon by a passerby.
"I went to ease myself only to see a person lying as if dead" Source says "then I reported to authorities."
The Police Officials and local leaders found Tabu's head shuttered and hands burnt. His back pocket had a bottle of poison to portray a suicide.
His body was taken to Gulu Regional Referral Hospital for postmortem.
A senior Data Analysis officer was the first high profile officer kidnapped from the office and his Mobile Phone was abandoned indoor. And his motor biker key was missing by the time he was leaving office, source says.
The late Tabu, who was kidnapped on Friday 8, 2021, was in charge of EC data his Uncle could not be mention for fear says the body of the late Tabu bore multiples torture and body injuries.
"His leg was tied and chest saw the sign of three piece of (kondoya) and his eyes smashed. Even the EC officials never made follow up." Source who attended the prayer recalled.
"The news came in the middle of the exercise and the staff tried to keep it away from me. It was not easy to absorb. We only pray to God and no one is going to live forever, Richard wherever you are may your soul rest in Peace," Obette says and broke down in tears.
Patrick Jimmy Okema, the Aswa Region Regional Spokesperson during press briefing at Northern Uganda Media Club, says when they reach the sense where his dead body was dumped, tucked in a thicket of bushes.
Okema says when the police surgeon cordoned the scene of crime, what we have discovered a plastic of poison was in his pocket.
"When the body was found, there was no sign of trouble, he was just lying dressed in pairs of treasure, and the place was not tampered with. Anybody who is dying can fight for his life"
Okema the postmortem reported indicated that there are some poison substances found in his body. However, his body sample and the poison bottle have been taken to Uganda Government analytical specialist for further, but he ruled out suicide case.
His eyes was goose off, this means that there are premeditated killing.
The pre-rigging and tempering of Electoral Commission materials
Democratic Party President General Norbert Mao says "There is already information circulating on pre-ticking of ballots and stuffing of ballot boxes ahead of January 14, 2021, and reports of tampering of ballots boxes sealed by the Electoral District Returning Officers country wide, this means that the elections has already been rigged." Mao warns
It's upon this background that Tabu is alleged to have been killed because he stood on principle of votes for merits.
"As far as we are concerned, the purpose of election is to bring about the legitimate government, so if it is not free and fair then the outcome will not be respected." Mao says.
"You know we never did voter register verification because COVID-19 pandemic came in. so we are actually going to an election where we don't have certainty about the kind of voter registration," he says.
"The bottom line is we are not going to have legitimate government, because a legitimate government can only be when election is free and fair" he adds.
"The intimidation that if you don't vote for us there will be war, Ugandans have seen wars before, for my experiences the place where the president comes from has not faced blood" Mao notes.
Mao made a press statement on Tuesday January 12 at the Northern Uganda Media Club in Gulu City.
Mao adds that he really doesn't know what kind of Country we have, instead of building democracy we are going to build the military army, how we deal with people who are armed to the teeth, we are being pushed so far, and some of the things that are done to frustrate their campaign are too much
Party National Unity Platform (NUP) spokesman Caesar Rubangakene says ruling party NRM is intimidating opposition and breeding chaos.
Rubangakene before January 14 presidential and parliamentary election says the election was already rigged, with the pre-ticked ballots papers which are reported taking place at Uganda-Sudan boarder Ngomoromo.
Prior to NUP candidate Rubangakene fears, on the night of January 14, election day, UPDF motorcades was seen entering Gulu City Council Hall where the tallying was taking place with their UPDF trucks full of ballots boxes.
To confirm what Rubangakene says, the retuning Obette did not announced the presidential votes result, when he was announcing the wining MPs candidates for Gulu City.
The presidential result all over the country was never announced by returning officials, Uganda Communication Commission UCC gave a directive to all radio and Television station never to pre announce election results, otherwise any radio or TVs station that break the directives will face dire consequence.
Obol Nelson, Manager for Choice 92.1 FM says they have to abide by the UCC guideline.
"We only announced election results for the parliamentary candidates, but not presidential election results." Obol mooted.
Christopher Achire, one of the candidates for Gulu City Mayor says he was kidnapped by UPDF army on January 13, taken to Elegu Uganda-Sudan boarder.
Achire  says during the press briefing in Gulu City on Saturday, January 16, that at around 3.00PM local time while was abducted on Jomo Kenyatta street and pushed in military truck and driven off.
"While I was moving to buy some bite, I was approached by two UPDF trucks, one vehicle came from behind me, while the other vehicle reverse from the in front of me, and they all block my way, suddenly the two door opened and I was pushed inside the waiting vehicle." Achire recalled.
Achier narrates that the kidnappers drove for about three hours and their vehicles was stopping along the way, but when they reach Elegu, he was taken in a mini dark room, where the light was dim, he was put in a distance of about five meter and the interrogators asked him about plan B.