UGANDA: STOP SHOWING PHONOGRAPHY AND VIOLENT MOVIES TO CHILDREN-ANGLICAN CLERGY
Don't cry about the immorality and cultural Degeneration which is sweeping across Acholi Sub -region because the businessmen are the ones screening violent and nude contents in terms of films, images and texts in town and major trading centers.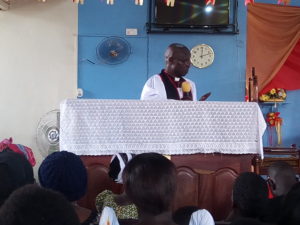 GULU-UGANDA: Rev. Cannon Ayela Othiniel told mourners during the requiem mass of the late Ananiya Akera that the impunities in Acholi Sub -Region are as results of indoctrination of the locals due to the influence of sexual and violent films being screened in the cinema halls in town and trading centers.
"Everywhere you go, you find the young people watching films full of fighting and sexual scene." Said Ayella
Ayella was quoting from the book of Micah Chapter 7 which talks about the destruction of all idols and ungodly stuffs.
He warns Acholi community on God's punishment for their sins. "Who told you to turn away from God's teaching? Who told you to let your children watch sexual and violent films? Who told you to worship idols? Ayella asked
Verse 1 Chapter 8 of the book of Micah says 'I will wail and howl I will strip naked; I will make a wailing like the dragons and mourns as an owl.'
"So does the people of Acholi Sub -Region, who are committing worst sins. Why are you blaming young girls who stand along the streets to sell their bodies? Do you think you are different from them?" Ayella went on
Ayeall adds that the street kids should not be blamed for the crimes they are committing since they were influenced by the movies the watch.
The Anglican Clergy disclosed that when he was growing up in the 1960s, they were made to watch only farming video which encouraged them to work hard and earn their living through farming, something that is not happening in this generation.
"Instead of following African and Acholi culture, this young generation has adopted the European ways of living which is contrary to our tradition." He said
83 year old John Araa Lamyai-ling a resident of Odek Sub –County in Omoro District blames the impunities in Acholi Sub –Region on the influence of education. He argues that education has made it hard for the younger generation to differentiate between westernization, modernity and civilization.
"I know of the families who were so powerful because they embraced culture, but the moment they deviated, those families perished." Araa observed
Patrick Odong is father of three and a businessman in Gulu town. He suggested that the contents to be consumed by children should be regulated. And that the violent and sexual films should be made illegal.
"The video shows should be restricted such that children below 18 years are banned from entering." Odong suggested
Odong adds that even if the video halls in urban areas are to be closed down, children below 18 years can still watch the sexual and violence movies online.
Stella Bako, the Customer Care for Star Times Digital channel in Gulu city instead apportions blames on their customers. She argued that those who have Television can block the movies that contain sexual and violent contents.
"The blame cannot be attributed to digital channels because everybody who is on Star Times channel can lock the movies programs that he wants." Bako reasoned.
Each day Regional Northern Uganda Police desk record a robbery, assaults cases and murder that occurred in the region.