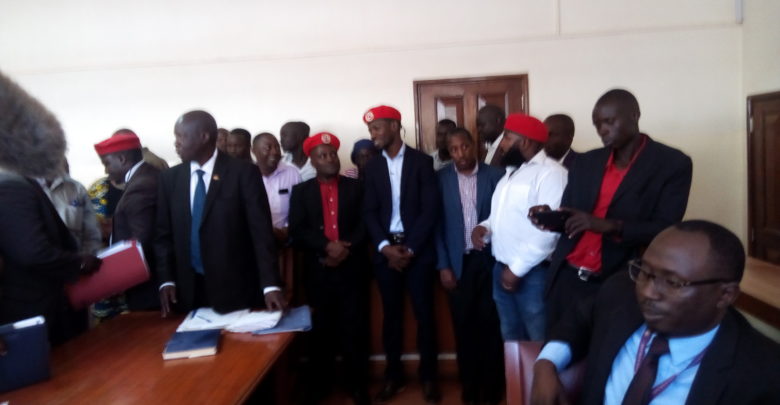 UGANDA: ROBERT SENTAMU KYAGULANYI COMMITTED TO GULU HIGH COURT
The Duos 37 accused groups of People's Power arrested on trumps up charges for treason, including Bobi Wine granted court bail
GULU-UGANDA: At 5.55 am local time, business came to stand still in and around Gulu High Court. Darkness descended on Gulu High Court as the People's Power President Robert Kyagulanyi addressed a mini campaign rally outside Gulu High Court immediately he was granted bail.
Kyagulanyi the  Kyadondo East MP, declared that a revolution, is now underway in Ugandan and the long serving Dictator Museveni has brought this upon himself and, whether he likes it or not this is revolution the young people of Uganda must win to redirect their destiny.
Meanwhile in court,Issac Imuran Kintu Grade I Magistrate, committed Kyagulanyi popularly called Bobi Wine and his 36 co accused who are facing treason charges to the High Court to face trial stemming from a hotly Arua Municipality bye-election in last August in Kyagulanyi suffered military brutally which left his driver dead.
Patrick Omiya Senior Resident State attorney prayed to court that the accused should continue reporting to court monthly as per their extended bail application. Omiya said a warrant of arrest should be issued for one of the accused Gamba Tumusime who failed to show up in court today.
Henry Komakech  Kilama  the  defence Lawyer of Kyagulanyi and his co accused said they are ready to proceed with the case in the high court where he said they will prove to court that their clients face are politically motivated trumped up charges.
Zake Francis, the MP for Mityana Municipality who appeared up beat while talking to journalists outside court that the charges against them cannot stand the test of time because it is based on a bye –election humiliation which the court system has formulated into believable charges.
Mike Mabike the former MP for Makindye East who is also facing the charges said Dictator Yoweri Museveni is using court to fight his political battles which is doomed to fail.
"Now Dictator Museveni is using court to frustrate the youthful People's Power new presser group, we will fight in court; fight publicly until we liberate Uganda." Mabike warned.
Joel Ssenyonyo the Spokesperson for People's Power who introduced Kasiano Wadri as the man whose fight has brought much suffering to his colleagues said they secured Arua amid brutal force.
Kasaino Wadri also repeatedly said their court case are based on trumped up charges likened Museveni level of desperation to that of a woman in labour pain who will always be restless. He said the president has messed up Uganda and wants everybody to drown with him.
.