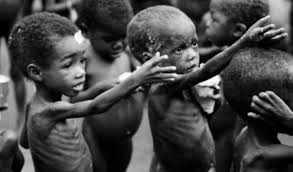 UGANDA: NORTHERN UGANDA ANGLICAN CHURCH, GULU CITY IN A FUNDS DRIVE TO RAISE FOOD ITEMS AS 900 PEOPLE SUCCUMBED TO HANGER.
Brother in need, is a brother indeed. East or West, home is the best. Acholi is mourning with their brother Akoramojong
The Dioceses Bishop of Northern Uganda Anglican church, Janani Luwum in fund drive to raise food items for the affected people in Karamojong sub region. In-turn, so far over 20 people are reported dead of hunger in Agago district bordering Karamoja region.
GULU CITY-UGANDA: Gulu City Alum Rotary club has join the bandwagon in fund drive to raise food items to support Ministry of Disaster and Preparedness, to relieve the people of Karamoja affected by famine, so far over 900 have succumbed to death in most affected areas North-eastern Uganda
David Labeja, President of Gulu City Alum Rotary Club on Friday, August 19, 2022 when addressing Northern Uganda Media Club (NUMEC) as famine looming in Acholi sub region, the general situation of coverage in the region. The rotary club in Gulu City and Gulu District are in pattern with Northern Uganda Anglican Church of Uganda to raise food items to give to people of Karamoja.
"Food items can be channeled to my office located in Olya Road or can be delivered to Anglican Church of Uganda head office at Gulu High. Those who have food items to be given to my office, Karamoja region in dire need, we have been told that about 20 people so far died with hangers in Agago district." President of Rotary Club, Gulu City Alum told the press.
Labeja also disclosed that one person succumbed to hunger in Omoro district in Acholi sub region, the famine situation is dire in northern Uganda and Karamoja region, food items are being delivered by World Food Program (WFP) in many locations including Agago district.
Omoro district Chairman refuted the claims
Okello Peter Douglas Okao, the Chairman Omoro district Local Government dismisses the issue of death, says the person reported to have been killed as result of hanger in Lakwaya sub county, Omoro district did not die with famine as was reported. But, succumbed to along hillness not related to hanger as was reported.
"Yes, the famine is affecting our community in Omoro District, but the vulnerable people who are really affected are elderly people, nodding syndrome children and the people who have HIV who are badly suffering with hunger, there are cases of death, the person who is reported said." The Omoro District Chairman responded.
He added that he knows people are having one meal a day, although famine is biting, as a result we have ordered massive double food production of growing Cassava and Sorghum. Every household they plant two acres.
"What is known is that my people are having one meal a day, there is nothing like hanger death in Omoro district." Okello Doulas Peter dismissed the issue of death.
Alice Adong a resident of Patongo town council, confirmed to the Black Star News Correspondent that indeed famine is worst in Agago district bordering Karamoja region.
"Our people move to Lira City to buy food items in large numbers. You know that food prices are cheaper in Lira City compared to Gulu City, that is why we are going to buy food items from Lira.
Adong revealed that food items prices in Lira City Main Market are as follows: Beans a kilogram is at shillings 2,500, rice a kilogram is at shillings 2,000. Sorghum grains a kilogram shillings 1,500 maize floor a kilogram a is at shillings 2,000.
Aloyo Alice a buyer from Gulu City, Olayo-long market says prices has been hiked up in the market food items by 200 percent, says Maize floor a kilogram is at shillings 3,600, dry Cassava a kilogram is at shillings 3,500, Sorghum grain a kilogram is at shillings 3,000, rice a kilogram is at shillings 4,200. While Ground   Nut a kilogram is at shillings 6,000, Simsim a kilogram at shilling 6,000, Millet grain, a kilogram at shillings 4,000.
Addition story from Karamoja region
John Robert Adupa, the chairperson of Lotisan Sub-county says many of these are energetic youth whose vibrancy powers Karamoja, meaning their arrests spell additional doom for families where they were bread winners.
"It is hard to explain our situation to outsiders until they visit our settlements,
There is barely anything to harvest, crops have withered, people need food from the government, but it's yet to come. Now some have resorted to boiling skins and hides of goats, cows as food," he explained, sounding distraught." Adupa narrates
Robert Kennedy Okuda, the Kotido production officer, said of 165,466 people in the district, half barely have a meal.
He said 77 percent of the people are in urgent need of aid.
Okuda said a combination of skyrocketing prices, insecurity, and army worms worsened the food scarcity problem.
He said there is a need to have a contingency plan so that we have a better picture of looming hunger.
260 dead in Kaabong 
In Kaabong, District chairperson Jino Meri said data compiled by the district internal security officer (DISO) showed 259 people died due to starvation in the district between January and July, this year.
By June 2022, two in every ten children in Kaabong was malnourished, he said, citing Unicef statistics.