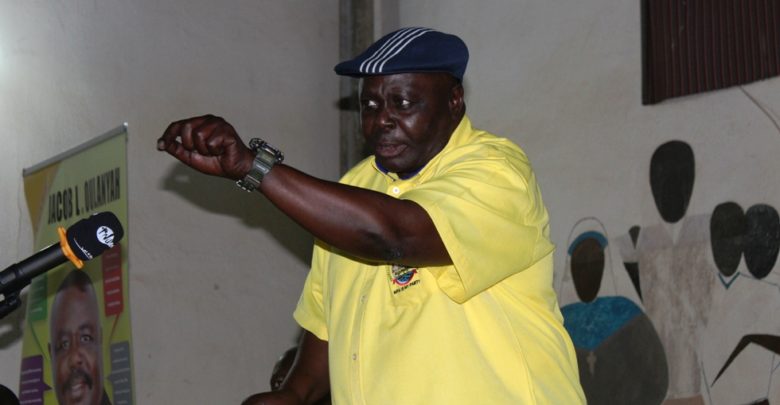 UGANDA: NATIONAL RESISTANCE MOVEMENT IS A ROTTEN PARTY- FRUSTRATED SUPPORTER
National Resistance Movment ruling party is weaker that any other political parties
Party Chairman all over the world take precedence in decision making to run the affairs of day to day government business, like now I am here in Gulu City, the person who should have welcome me is Mr. Ochen who is the National Resistance Movement (NRM)party Chairman, but not Residence District Commissioner who sitting next to me here.
"It's the role of the Party Chairman who knows what is happening in the District, when the National Executive Committee, NRM Vice Chairman for Northern Uganda, Party Chairman would be welcoming me and introducing me to RDC, not the RDC who introduced me to him. Suppose the Gulu Residence Commissioner would have been a person who comes from the Bugisu area who does not know our language, is he going to be well versed in the politics of this area.
The Party Chairman would be coming out of his vehicle, welcome, and later he would drive his vehicle ahead of me. We would be going to his home slaughter goat and drink while taking the party issues. But because our party structures have not been empowering, our party Chairman lives in abject poverty." Jacob Oulanyah who is vying for Northern Uganda NRM Vice Chairman for the ruling party.
GULU-UGANDA: it was not a rosy day with Jacob Oulanyah, The Deputy Speaker of August House on Friday, July 31st, 2020 in Gulu during the National Resistance Movement the ruling party consultation campaign. NRM supporters had planned to humiliate him for his past record on numbers of party issues.
72 years old, Samuel Oduny senior NRM mobilizer stalwart ruling government party say the ruling NRM is rotten to the extent that they have failed mobilize the grassroot supporters for development, we're all disgruntled ruling party members, we are so divided we run to opposition party to support our party members in Acholi Sub Region.
Oduny argued the NRM party loyalist to support the Deputy Speaker endeavor campaign for National Vice Chairperson for Northern Ugandan, describing Jacob Oulanyah as my son, is the brilliant person that can revamp the rotten NRM party that is charlatanries with nepotism.
"What you have done in Juba in 2006 during LRA peace talks, you can only be compared to USA president Barack Obama, but because we an African your input cannot be measured.
Instead supporting our NRM members flag bearer, even if the person is a bad person. Instead we support members of opposition, the NRM is very weak in mobilization, all of us including the party Chairperson." Oduny
Oduny has suffered so much in the hand of NRM supporters no wonder that he missed UGX 6 million facilitation given by Deputy Speaker Jacob Oulanyah.
Ms. Christin Olok, Chairperson of Gulu West City Division, reassures the Deputy Speaker Oulanyah that they have received telephone messages from his opponent that they should humiliate him in this meeting. But because of your good program which you have explored to us, she revealed.
"I know amidst us there are some people who have been planted to cause chaos and disappoint you, but you told the NRM party stalwart how to revamp the NRM party disgruntled loyalist. Instead all along we have been supporting members of Opposition later those Opposition turned out to use the government resources to say they are the one who have brought development." Ms. Olok insists.
"Jacob L. Oulanyah, man of the people, National Vice Chairperson Northern Uganda, your choice, your vote." Political poster read.
Mr. Oulanyah says when he is elected for National Vice Chairperson for Northern Uganda, he would be standing for strategically mobilizing citizens to build the strength of the National NRM and instill loyalty in its membership.
Explaining that since he joined NRM party in July 2006, he has been very loyal to NRM party, even some time the NRM ruling party policy which ii always discuss by NEC members, not all serious issues can be discussed in NEC meeting, but by selected party members.
Adding that among other issues he is standing for consolidating regional unity to promote equitable socio-economic transformation. Citing example, he would be advocating for equitable wealth in northern Uganda.
He challenges NRM party members that suppose Museveni called for a fund-raising drive in Gulu or anywhere in Northern Uganda, can we even raise UGX 10 million. But such fund-raising drives in Western Uganda where 80 percent of majority people are, they would raise UGX 80 billion immediately.
Oulanyah argues that this can happen when the party Chairman is empowered to monitor government function, ask them do our party chairperson has been called to officiate the construction of government school or hospital in his area. Or does our party chairperson know and can explain the NRM party manifesto? He asked.
Explaining that even if the District Chairman is an ex official of the District Council, by party structure he is allowed to sit during the District Council meeting and advises the Councilors what to be done based on the government manifesto. But now are these things happening, no.
He argues that his stand is on increasing access to affordable credit to boost entrepreneurship among the youth, women, the elderly, PWDs, and Veterans, in farming and others business.
Therefore, we need bank interest rates to be favorable to our people, in developed world, bank interest rates are 0.5 percent to allow the community to develop. But here in Gulu you borrow UGX 800 million, and after a month when you pay back interest rates you start with UGX 10 m, you would be going to your death grave. Oulanyah reiterates.
Betty Acan Tino senior NRM women League open pandora box, says my son we have heard what you stand for, we need our god father to stand for us NRM supporters in Northern Uganda to follow Presidential pledges. When President Museveni pledged, he made sure Gulu Air filed to international AirPort among other pledges. "It now our god father that would follow such issues.
"You need to follow Forum for Democratic Change (FDC) who have surrendered to NRM in Awach Sub County, Aswa County, President Museveni should have bought for the women a gomasi of UGX who made hululation, just nothing was done."
She added that your manifesto is convincing, now we know that you can represent the people of Northern Uganda.
James Ochen, Chairperson for NRM Gulu City advises the NRM supporters that if they voted Oulanyah then they will revise party structures to empower them for accountability.
"Look here do you think when the Chairman of NRM Museveni ask me to explain what is there is the NRM Party manifesto I will be able to explain to our grassroot supporter, do you think the Chairman of Gulu District will call me to officiate for Road construction breaking ground." That would not happen, Ochen urged.
Oryem Odora, the former NRM party Chairman who has been the chairperson during Col Walter Ochora tenner who spoke last advice to NRM in Gulu City to vote for Jacob Oulanyah if they wanted change, this based on his manifesto that is convincing.
He proposes that since there are two candidates vying for National Vice Chairman for Northern Uganda, Timothy Jok-kene Okee, Sam Egola and Jacob Oulanyah. We batter between the tow, not Oulanyah to go and talk to Jok-kene.
"This is now responsibility for the leaders of Acholi Sub Region to mediate between the two."
ders of Acholi Sub Region to mediate between the two."