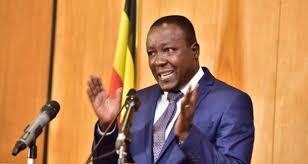 UGANDA:  NATIONAL ECONOMIC EMPOWERMENT DIALOGUE PARTY VICE PRESIDENT CONDEMNS THE ARREST OF JOSEPH KABULETA, CALLS FOR IMMEDIATE UNCONDITIONAL RELEASE
The arrest comes shortly after Kabuleta addressed a press conference where he spoke about the recent attacks on security installations and theft of guns in the country.
Our freedom has been stifled by a repressive regime, Uganda is being taken by private drones, our freedom is being taken by a dictator, I don't fear, I better die a hero, National Youth President of NEED Uganda came forward to spell fear of demise.
On Monday, this week one of the Ugandans has been abducted by security men, Ugandans are being taken by drone, but Members of Parliament have been castigating Ugandans that they are faking their own kidnap to gain political leverage.
GULU CITY-FRIDAY 1,12,2022. Good morning fellow men and women, I am Evelyn Laker, the Vice President of National Economic Empowerment Dialogue, NEED is a newly formed political party under Joseph Kabuleta the arrested party president.
Joseph Kabuleta was arrested soon we finish and  arrest comes shortly after Kabuleta addressed a press conference where he spoke about the recent attacks on security installations and theft of guns in the country.
Kabuleta says "We have security issues here, a lot of uncertainties going on here, the president should come out and address the nation on these insecurity problems that are popping up in the country instead of traveling to Vietnam, USA, claiming that he is attracting investors. Who can invest here with this uncertainty around?" Mr. Kabuleta asked before his arrest.
Evelyn Laker, Vice President NEED Uganda who was addressing Northern Uganda Media Club (NUMEC) in Gulu City talk poetry says. Today I stand here with profound sadness to announce yet another dramatic episode in the history of Uganda, Joseph Kabuleta was arrested on Monday 28, 2022. Charged yesterday and remanded to Luzira prison.
The only crimes that Mr. Joseph Kabuleta has admitted is was to advocate for economic empowerment of the ordinary Ugandans I therefore call all political parties despite of our difference, to stand with NEED and demand for immediate release of Joseph Kabuleta and innocent Ugandans who are lying in deference safe house in Uganda and other and Prison cell in Uganda.
Today I also demand and call upon the government of Uganda to grant us the freedom speech, freedom assembly and freedom of our economic empowerment, yesterday was Dr. Kizza, and today is Joseph Kabuleta, tomorrow will be Robert Kyagulanyi aka Bobi Wine and you the journalists and other Ugandans.
So, I call upon all of you to come and stand with us and denounce this madness, I also want to thank the other political sister political parties who are here with us demanding that the unlawful arrest of Ugandans stop immediately, thank you.
Chris Ouma, the Uganda People Congress party, U.P.C , Gulu City branch, says members of the press has the VIP of Need as she us well stipulated or stated stetted what happened is very sad that the political  space in the  country is being so small, the  repressive of this country, becoming so too little  and for that matter as Uganda people congress we equally condemned the arrest and detention of Party President of Kabuleta, in uncertain term , it is very outrageous, very bad its evil to arrest the person because he is demanding for the rights  of Ugandans.
Even out constitutions is very clear about the political space, about freedom of speech, freedom association and seeing about all that is happening about torture, about kidnap and the arrest of President of NEED Kabuleta. We demand unconditional release of President Kabuleta, because where he has reached is very bad.
"As UPC, Uganda is arresting President Kabuleta, President of Uganda is becoming the enemy of Ugandans, U.N charter on Human Rights declaration is well stipulated about freedom of speech, assembly and association" Ouma warns.
Opiyo Albino Ronald, National Youth Chairperson of NEED Uganda, our fight is economic liberation of strengthening the economy. In Our country, we have been endowed with national resources which are being engulfed by one family.
Being open mind citizen  national leader Joseph Kabuleta says he has batter died a hero, just on Monday, Joseph Kabuleta was kidnap, we don't know whether by private security who do not even have national identification we don't know if by police or army because they do not have national identification, he has been taken by drone.
"It is sad news to the country, our speeches, our freedom are now being taken by this dictatorship, we don't fear to die, you batter died a hero whereby few people will come to your burial rather than thousands coming for your burial." Opiyo decries.
Therefore as national youth of this country we condemn the arrest of our party president Joseph Kabuleta.
Martin Kabalaga, the General Secretary National Unity Platform, NUP Party, a Law student from Gulu University, on the 28 last month we have stressed by this straggly, one of the strong men have been arrested or kidnapped by this security.
Members of Uganda are being abducted every day, however, members of Parliament claimed that those who are being abducted are making political capital.
"Video of drones who are kidnapping Uganda are circulating on social media." Kbalaga argued.
Added last month was Number 28, 2022, and yet in Number 2021 Uganda witnessed real massacre in Kampala, this country is being run as a kingdom.
The father wakes up and does his own thing, the son also wakes up and does his own thing, Members of Parliament are being abducted and are not coming up to raise the alarm bell.
Kabalaga says the full president of NEED Uganda has been arrested, this country is worse than President Idi Amin era when people were taken by pandagari and drove in the boot
Okello Innocent, Regional Coordinator, Acholi Sub Region, also student of Gulu University. We are member of National Economic Empowerment Dialogue sitting here crying scoffing, we are asking Ugandans in diaspora to stand with us, we speaking the truth, because we are telling Ugandans about their rights, arresting the president of NEED Uganda has been arrested by men in Uniform, we are back in the times of Idi Amin Dada, were torture took tolls, we want to ensure all Uganda that we must keep the struggle, we are continues to fight for the rights of Uganda
"We condemned so much the act of police, we condemned so much the act of NRM who does not allow other political parties to do their political work. We are taking Uganda innocently."
The party spokesperson, Mr. Moses Matovu said: "They told us he was being taken to the Criminal Investigations Directorate CID. We followed him at CID but shockingly we were informed that they don't have him. So currently we don't know where exactly he is being held."
The arrest comes shortly after Kabuleta addressed a press conference where he spoke about the recent attacks on security installations and theft of guns in the country.