UGANDA: MISSIONARY LEFT WORKERS AT PAINT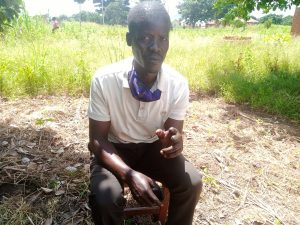 A carpenter, a person behind Kalong Mission Motor machine left without three fingers demand UGX15 million for compensation.
AGAGO-UGANDA:  Mr. Charles Kidega, a worker of Kalongo Mission in Agago district his nursing his frustration from the accident he got from his work place, motor machine cut his three left fingers during heavy duty.
"In June, 19, 2021 while at work motor machine accidentally cut three of my fingers, and as result of that I am now disable, when I was recruited, I demanded for contract agreement , but my boss Fr. Gwido says in their country they don't consider works contract, I was left wonder." Kidega narrates.
Adding that upon getting accident, when he was admitted in Kalongo hospital, instead he paid UGX198,000 the management of the workshop refused to cater for his medical bill.
He further reveals that when he was discharged from the hospital, on 26, 9, 2021. The management stops paying his salary, if they can pay my compensation including benefit to the tune of UGX15 million, instead of UGX1 million Fr. Gwido Mnitto want to pay me, I would accept.
When Oyeng Yeng News desk contacted Fr. Gwido for comment, he hang out repeated calls.