UGANDA: LOCUSTS IS ABATING genocide AS UGANDA DICTATOR MUSEVENI'S PLANNED TO FIGHT LOCUS BY SPRAYING CHEMICAL-EXPERTS WARNS
We beg the government to let locusts pass as community feed on them instead on spraying on him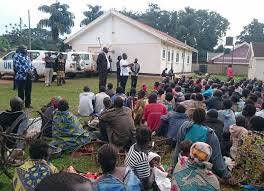 The  timeline when the locust  invaded northern Uganda was in 1948, 1950 and lastly was in 1958, when the locusts affected Acholi Sub Region.
Acholi communities  are against aerial spraying of locusts in Northern Uganda soil, they are questioning why the government is moving to fight locusts when the insects reaches part of Northern Uganda,they had posed the questioned reasoning,  why when swarms of insects had crossed from Kenya to Karamoja, the government were reluctant instead  to use chemical against them, the government  should have  control the locust when the locusts was in Eastern Uganda..
76 years old, Ayot  a ground mother  from Palabek Kal in Lawmo District, says her experienced to combating locusts is when locusts  affected their area in 1950, locusts eats feed on vegetation including birds snake, dog and young kid within two years old.
GULU-UGANDA: Locust has invaded part of East Acholi frontier from Agago, Lamwo and Kitgum districts early morning today Tuesday, Feb. 11, 2020 following early locusts attack in Karamoja and Teso Sub Region last week.
Santo Sand Ongom areas Councilor V of Adilang Sub County have confirmed that the locusts is  in deed invaded their areas and the swarms of insects are moving north-west ward from Adilang areas,toward Orom in Kitgum District, Ongom confirmed the resent of locusts invasaion, said locust has destroyed  over 10 hectors of Cassava.
Mike Otema  Assistant Animal Husbandry officer for Agago District also was in the filed to see locust invasion, says they have chased locust from Cassava   plantations when we were told that locust has attack  Lapyem parish in Adilang Sub County, says firs that is the fist t areas where swarms of locust insect visited from East Acholi.
"We went to see the place where the insects has been alleged to attack Lapyem Parish at 10.00AM this morning hours, by the time when we reached  to the areas, as soon as swarms of locusts saw us, they flew toward Lapono Sub County covering all sky.
Otema says this is yellow  locusts  we  called in Luo language (Lagara). Otema intimated.
When Oyeng Yeng News desk contacted the Agago district Production Officer if the locust has invaded Agoga district , Lapyem confirmed the present of locusts in Agago district, but says the district  has no capacity to fight the locust because of it vulnerablility, they don't have capacity to fight locusts.
When Oyeng Yeng News Publication further more extended their investigation to find more detial of the locust attack from Agago district, Sam Okidi the Production officer of the district  confirmed the present of the locusts in the areas , but decries that the district does not have capacity to fight the locusts. he referred the matter to  World Health Organization says the have mandated Uganda  Health Ministry to combat the insects,he commented.
How do local community handle locusts?, and what are the experiences?.
Ayot the grand mother her account on how the locust can be dealt with says  in 1950 when locusts first attacked their homestead,by then she was a teen young girl. However, she managed to battled young  locusts called (Abum), the black locusts, this type which came to their areas was the worst locusts it was eating birds, snake and young children of about two years old, she lamented.
Ayot  hail from Palabek Kal, 80 kilometers north of Gulu city, in the area of Padwat  village. She says the red-pinkie locusts known in local language  (Bony Lagara), to her as a young person,  that locusts fly very high and leaved on tree branches. But feeding on vegetation on the ground.
"The locusts can fly for a long distance after feeding she vividly remember how locust lay their eggs on ground until they hatch, the lava when  hatches they  moving covering all the areas. Three days young locusts become big one after three days only.
Adds that "Locusts can feed on  anything that come on their way, we stay for three year without seeing snake in our areas, things likes birds, dogs chicken has to be looked after. Otherwise locus will destroy them," Ayot urged
She added that even tree branches and steam of plantations were not spared by the swamps of insects.
79 years old, James Onek Atunya from Apaa village, Labala Sub County, Amuru District says the last locusts that have invaded  Acholi Sub Region before the 1962 independent , he still remember  it was in 1957 when he was still in Junior 3 at St Joe High in Gulu. Locusts came in December, it did not last long, and the type of that locusts was pinks in color.
The roots or way the locusts always moves are  from east and move west ward, that locusts only stayed for a week, but cleared all vegetation, like Cassava; they leaved only on trees branch. (Lagara) they are in the family of locusts that always affected the East African Countries, he says the locusts  does not live on ground but live on tree branches.
"In 1944,  I saw a groups of  locusts called (Abum) brown in color,  they  swept on ground and lay they eggs, when the eggs hatches the young one is called  "Bonyo Adwek," they begin to move in lines from young while eating anythings on heir way."
Three Ways of combating locusts,
Onek Atunya argues that long long time ago, people would dig tranches as means of fighting locusts, a long pit hole is dug that can stress to a kilometer to trapping young locusts. The locusts would  fall into the dug hole, later it's covered in the pit
the second way of combating locusts was by the groups of women and young girls who would be involved in combating locusts, they used log to beating  the locusts, the women could  moved in line while beating the insects . But this method were not useful because women developed fatigue, Muzee Atunya reiterates.
Thirdly, the community harvested the locusts by netting them in baskets. They were using local made basket  called (Aduku.} the harvested locusts were cocked to feed family.
There is short fall by WHO responses.
The Food and Agricultural Organization also described the locusts swarm invasion to East Africa as the worst situation in 25 years.
The Food and Security and Nutrition Working Group, a regional platform, currently co-chaired by FAO and the IGAD Climate Prediction & Applications Centre (ICPAC) urged countries to take immediate action to control the outbreak, warning that there is a risk that some swarms could appear in northeast Uganda, southeast South Sudan and southwest Ethiopia.
The agriculture ministry earlier indicated that it needed a contingency fund of 1.35 million U.S. dollars to be used for aircraft fuel, pesticides and other supplies.
Community in Northern Uganda are worrying following locusts' attack in East Acholi, they fear emanated from the experienced of Ebola in 2000, when epidemic affected Acholi Sub Region and killed over 1000 people.
There have been numerous quire diseases the likes of Nodding syndrome disease, Hepatitis B, and so on.