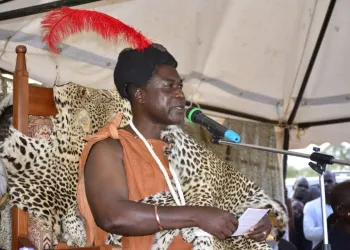 UGANDA: KARAMOJA CATTLE RUSTLERS CHANGED TO NEW FORM OF COMMERCIAL BUSINESS AS 200 LOCAL DEFENSE FORCES DEFECTED TO JOIN IN LOOT-ACHOLI LEADERS
East Acholi coming to term with new International Displaced People's Camps as the Karamoja worries take center stage again, creating new land conquer
"We have discovered that the Karamojong worries are deploying a new method of raiding cattle in East Acholi by using Boda Boda who ferry the beef to the markets, while truck lorries wait for the cattle being looted in Agago and Kitgum districts to buy it off from the cattle rustlers.
UPDF soldiers keep over thousands cattle to avoid cattle raiders, in the affected areas
From West Acholi Apaa villages, the most wanton land grabbing by Kampala regime, from Lakang village where 40,000 hectors given to Madaviah Sugar Works Company, Got Apwoyo, Nwwoya district president Museveni's Soybean, and cattle feeder are being produce for beekeeping in Nowya district for export, and in Atiak Sugar Works factory taking over 138 kilometers from Amuru District to Lamwo District in East Acholi, now the extension of broader by Karamojong worries are in the making    
GULU CITY/AGAGO DISTRICT-FRIDAY, May 12, 2023. The Cattle rustling in East Acholi districts taking place in Agago and Kitgum districts boarding the Karamoja Sub Region the cattle raiding has taken a new dimension as new method involving defected Militia from Uganda People's Defense Forces (UPDF) have so join in the hunt for Acholi cattle.
The affected community discovered that the cartridge bullets remain from the raiders indicates it belong to Uganda Army forces, local leaders from Agago and Kitgum disclosed
Rwot David Onen Acana the II, Acholi Paramount Chief who was quoted by Radio Rupiny, a local FM radio weave in Gulu City, told the listeners a week ago that. When He Acholi Paramount Chief Rwot Acana tour of Agago and Kitgum districts, where the Karamoja new weave of cattle rustling is raging on, there are new tactics of raiders using new guns from the UPDF in the raids.
"My people, I have found that the cartridge of bullets left behind by the Karamojong warriors indicated a marked of thee UPDF guns cartridges, those cattle rustlers do not come only to loot our cattle, but to loot food stuff and kill our community, this a dangerous move and of great mayhem." Rwot Acana condemned.
Within one year 168 cattle have been looted from Agago and Kitgum districts. And the Karamojong hiked the raid three days after Gen. Muhoozi birthday celebration in East Acholi, do Karamojong pay us because the first son hosted his birthday party? Community leaders are wondering.
Leonard Opiyo Ojok, the District Chairman for Agago, his narrative put Acholi as a community to a stone ages period.
Ojok, the district Chairman, says our people in Agago district especially the communities of Adilang, Lira Kato, Lapono, Paimol, Kokil Sub County, Omiya Pacwa the cattle raiders have come with full force to eradicate our community.
Their work is not only by taking away our animals, but to loot food stuff, kill and maim.
We are realizing the time when war was raging in Northern Uganda, they are taking us back to the time of Northern Uganda Lord's Resistance Army (LRA) and UPDF conflict.
In combat, five people have been killed by the Karamojong cattle rustlers, but in cold blood, over 70 people lost their lives, what a pity to us.
"The Karamojong cattle rustlers when they come to your place, if they do not get animals, they will ask you if they find you at home to take them where the cattle kraal is, but when you fail to take them, they will kill you. Sometimes when you are taking them to where the animals are, because you are leading them the way, you can be shot by the UPDP forces which are currently protecting and keeping cattle." Leonard Ojok disclosed.
When pressed by the Black Star News Correspondent, to confirm or deny the gun cartridges bullets with trademark of UPDF? Leonard Ojok, the Agago District Local Chairman, confirmed that the cartridges from AK47 guns fired cannot not be different with the one of UPDF or the Karamojong worries, what I know is that the event of cattle rustling have changed, today as I am talking with you, Boda Boda motorcycles are involved.
Because after looting the cattle, the rustlers killed them and the Boda Boda will be carrying the meat to markets, sometimes truck lorries will be waiting for the looted cattle with the buyers ready to buy the animals."
Adds, one day some people went to buy cattle in Karamoja Sub Region, the cow he bought was his brother's animal, this turned off the event.
Captain Amos Nsa, the Spokesperson for UPDF, Moroto 5th UPDF, who was contacted by the Black Star News, denied that there was no defection of Local Defense Forces from Karamoja Sub Region to the cattle rustlers.
But says at the moment the UPDF soldiers are keeping 500 cattle together with the community in the affected areas, the same information has been chaired by the community in the affected areas too.
"You the Black Star News Reporter are you based in Uganda or you are in New York City, there has been a long period of cattle rustlers in Karamoja region, and disarmament taking place, there could be some groups on individuals from our forces who have run away with guns and joined the rustlers, I can have confirmed it or denying it."
However, the five people killed in Omiya Pacwah, Muttu, Lapono, Adilang and Orom sub counties has not been our mistake as UPDF soldier's, but the civilians who are alongside on a night guard do not know how to react and fight alongside our forces.
Ofor John, the LC II of Kokil Sub County says on April 5, the cattle rustlers killed Ocan Augustine 52 years old, he died during the raid. While keeping guard alongside the UPDF, independent sources from Okidi Clay, from Kokil Sub County revealed that Ocan was shot by friendly forces who mistook him to be a cattle rustler.
Ofor says the UPDF and the community in Kokil Sub County have come out with a new measured, over 200 cattle are being kept under the UPDF, with men power of two soldiers before, but now more three guards from UPDF have been added
Dr. Okidi Mike, a residence of Kaket, Lapono Sub County his narrative is contrary to his peer, Dr. Okidi who is born a worry, says the latest cattle thief has new hallmark of land quest, because, the people who are behind are using the Karamojong as scapegoat, citing how the advance teams of intelligence, who includes women who disgust themselves posing like sex  workers or the people who have been affected by long drought.
And those are new methods of cattle rustlers. But their target is also to get food items.
The Karamojong worries, are using even Global Position System on monitoring where cattle kraal are.
"In the past, the cattle rustlers came from a long distance, but today as you go to sleep, they will pitch camps within your backyard, by the time you come out to position yourself on guard, you will be playing in their hideout. That is why fighting cattle raiders has become difficult." Dr. Okidi lamented.
Gen. Muhoozi took back 168 cattle which was so far have been raided from Agago and Kitgum district, two cow is given to the family of the late Ocan killed in Kokil Sub County