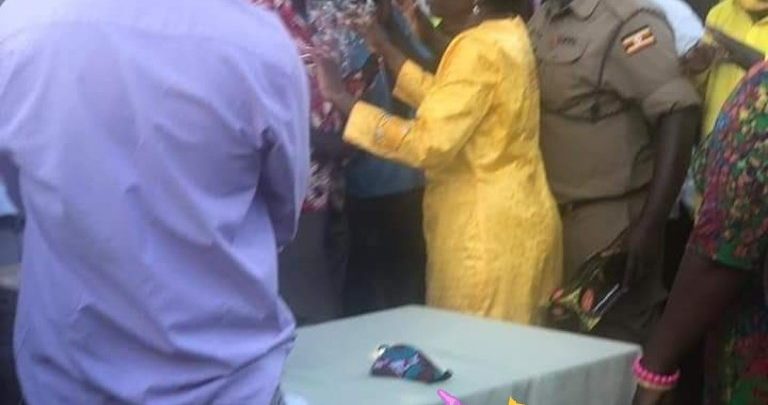 UGANDA: KAMPALA REGIME SHOULD NOT PLAY WITH PEOPLE'S INTELLEGANCE, STOP BEING AGRESSIVE IMPERIALISM.
Is Scintific Election Constitutional?
Dr. Jane Ruth Aceng, Uganda's Health Minister has been reported that while in Northern Uganda she was telling members of Northern Uganda Media Club to keep social distances and the people should put on masks. But when she was in Lira, she did not even put on mask, not even keeping social distance.
GULU-UGANDA: The National Resistance Movement should stop being denial and accept responsibilities to open political space to Uganda Political Parties, but not to use Covid-19 pandemic brandishing masks while creating social distances.
It has been reported that the Health Minister Dr. Ruth Aceng carried out political campaign in Lira amidst directives of President Museveni and Commissioner of Uganda Electoral, and yet they meant campaign.
Dr. Ruth Aceng was captured on camera holding political campaign in a procession without masks – Ugandans watched her footages played NBS and NTV Television stations – an allegation she denied it was a political rally, but that she was distributing out masks to people in Lira.
It is good sign to the citizens for Uganda government to embrace its responsibilities and burden fully, and open up political space for campaigning without reservation if citizens are to retain their trust.
The main concern among Ugandan political opponents is that, while the government of Uganda is getting Donor funding in UGX trillions of resources, they not have the gut to act as global hegemony and make Uganda more stable place to live in. Recently, Sweden donated US$20 million to support fight on Covid-19.
Dr. Aceng launched distribution of 250-thousand masks in Gulu City – on July 1, 2020, the day Gulu attained city status alongside other six cities in Uganda – but now it is surpassing a fortnight people do not know the whereabouts of the undistributed masks.
Robert Kyagulanyi, the president of the People Powers – a political pressure group – a week ago, penned down in foreign media, the Black Star News (the US New York City) based alleging in his post that president Museveni has made palace COUP d'ter when Electoral Commissioner declared that there is no political campaign – so Uganda will use scientific campaign and scientific voting.
The world is awash, the global political players from across the continent is back to square one. Indeed, for political historian Nail Ferguson the latest scholar put it that, the west should accept its new civilizing and stabilising mission and honestly admit that globalisation is a fancy word for imperialism.
Indeed, Uganda government should accept new civilizing and stabilising and admit that when violent erupts, it will lead to the kind of Arab Spring which engulfed Tunisia, Morocco, Syria Libya, Egypt and Bahrain in 2011.
There is writing on the wall, although the global is awash with COVID-19 pandemic.
Kampala regime think the current ruler (Bahima dynasty) would last for a millennium as the (Luo reign) lasted for two millennium when the two began their war from Ethiopian, Oyeng Yeng pundit recalls. The NRM government is imposing their value and institutions on other political parties.
"If the Americans do not badge themselves as sheriff and hunt down the bad guys, who will?" Renounced Micheal Nowerd, an American scholar puts it in the latest time.
If this means the assertion of hegemonial or imperial rule, so be it. There is worse thing than the empires – the cosmopolitan.
After half a century the white means burden must be taken up again.
Similarly, Robert Cooper, a British Foreign Policy Adviser has called for return to old imperial principles.
"The challenges to the postmodern world are to get used to idea of double standards. Among ourselves (In the West) we operate on the basis of laws and open cooperation society. But when dealing with more old fashioned, kind of states outside the postmodern continent of Europe.
We need to revert to the rougher method of an earlier era-force pre-emptive attack, deception whatever is necessary to deal with those who still live in the nineteenth world of every state for itself.
Among ourselves we keep the laws, but when we are operating in the jungle. We must also use the laws of the jungle."
The question is, What laws is Museveni using? Where does Scientific Election appear in the Uganda's Constitution.