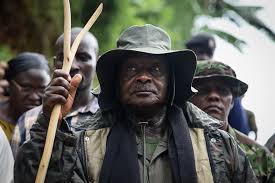 UGANDA: INTERNATIONAL CRIME DIVISION WITNES ON THOMAS OKOT KWOYELO FORMER LORD'S RESISTANCE ARMY (LRA)-HE WAS OFFERED RESIDENCE COMMISSION
The Karamojang rustlers freely move with guns, but when one gun is found with an Acholi, is subject to treason case
Latest witnesses failed to pin Thomas Kwoyelo in their defense.
The former LRA Thomas Kwoyelo on trial before International Crime Division ICD he is facing over 90 witnesses, the former Operation Commander, Opiyo Makaci told court he knew Okot Thomas Kwoyelo in the bush.
GULU CITY- THURSDAY, April 19, 2023.
Gulu High Court, International Crime Division (ICD) the midday and Afternoon on Thursday was full of comicality, there were laugh in the courtroom which was in attendance with four justices, Michael Elube who is head of the panel, Justice Duncan Gaswagga, Justice Dr. Andrew Bashaija. K and Justice Stephen Mubiru the presiding judges hearing Thomas Okot ally Kwoyelo former LRA rebels filed Operation Commander.
While Thomas Kwoyelo was presented by Called Alaka the lead Counsel, Dalton Opwonya was also present to provide technicality in Luo language to his associate Defense lawyers including Evan Ocheng another Counsels defender Kwoyelo who is facing trumped up charges of war crime, crime against humanity, sexual and child recruitment.
The court interpreters were Robert Adongkulu, and David Labeja who could change roles.
In the dock was a wooden male witness who introduced himself as Adek, 49 years old his pseudo name, a father of 21 children and husband of five wives told ICD court that he wanted to become the Residence Commissioner if the LRA toppled Museveni regime.
Below is verbatim
"I am a Catholic, what Am going to tell court is the truth, I have been rebel's collaborator working with Thomas Okot Kwoyelo from 1996, in Pabbo area, we were very sure that Joseph Kony's LRA rebel's chief was going to captured power, and I was going to be appointed Residence District Commissioner.
Charles Kamuli the State Persecutor questioning Adek how did he know Thomas the man in the dock and if he can identify him when given time, his helper of the witness in wood, Adek against Thomas Okot Kwoyelo asked him to adjust his wooden camouflage, and later got a hint of him
Kamuli interjected and asked him if he received a summon to come and testify and explained the issues about Kwoyelo. Tell the court the other name?
A total of more prosecution witnesses have been lined up by the State to testify against former Lord's Resistance Army (LRA) rebel commander Thomas Kwoyelo following a resumption of the trial by the International Crimes Division (ICD) of the High Court in Gulu.
The trial resumed on Monday and is set to run for two weeks.
The hearing is being presided over by justices Andrew Bashaija, Duncan Gaswaga and Stephen Mubiru
Adek, I knew, was called Tom Latoni.
The witness narrates, I went to Pabbo, Abera Primary School with Thomas Kwoyelo, I don't know him very well, although he was in the same primary school with him, because he was ahead of him.
Tell us when he was born, where and the family?
The witness says, I studied with him at Pabbo Primary school, although he was ahead of me, but I would meet him, we were playing both game of draft, I know his parents, the father is called Ajuk, the Mather is called Rosalina, he come from Acut cama village, Pobo.
Caleb Alaka, Defend Lawyer for Thomas Kwoyelo, interjected. Say we have heard the translator trying to guide the witness, we have heard a witness trying to repeat the same things again and again, we are not to go on over it again, unless we are going to set other information.
Kamuli, state Prosecutor, asked the witness by 1996 how the situation was in your area.
He says the situation was not easy, the LRA rebels were disturbing people and people movement to the Internal Displaced People's Camps.
How about you, did you go to the camp? The State Prosecutor asked the witness.
The witness answered him, I also went to the IDP camp? He responded.
Did you witness what happened in 1999, in the IDP camp?
The witness says, in 1999 while they were going to the garden, rebels was killing people, but one day the Uncle of Kwoyelo called Atuku, came to me say if we do not want camp to be destroyed, we have to accept to work with Tom Kwoyelo, for feared that our camp should not be destroyed, I accepted to work with him, Atuku, the Uncle of Kwoyelo took me to him, he took me to Thomas Kwoyelo in the area called Paraubanga.
Thomas Kwoyelo commander of Lakwena initially LRA.
Kamuli State Prosecutor asked the witness again, can you describe that?
The witness says he was among the rebels of Joseph Kony, when he took him to a place called Ocet Kaka, he told me to be a coordinator. Then I agreed to work together.
My role is to camp with them without the knowledge of the Uganda People Defense Forces. (UPDF), and I should also buy them gumboots and keep on spying on them, also I was sent to report them to the government intelligence agencies.
Kamuli, state Prosecutor, questioned him, did you deliver those as par agreement?
Adek, the witness, responded, I took them several times and also brought them to Pabbo camp.
Kamuli, state Prosecutor, asked again, who did you deliver the goods to, and to who in Patiko?
Adek, the witness. I got Onen Kamdulu, Okwanga Alero and other commanders who I did not know, and to Kilak hill and Parubanga in the area called Kerobedi.
Kamuli, state Prosecutor, who are the Okwanga Alero and Onen Kamdulu? So were they compromised with them so that they will not destroy your garden and property?
The witness answered, no attack happened to my people. I thought we were going to capture the government, some of us were going to be appointed Residence District Commissioner, from 1999 to 2002 when the arrest was so much I fled and sought Amnesty, in November 2002, Hon. Sister Oker, I came back a free man, and began living like other people. By that time war was as bad as it was.
Caleb Alaka, sort back again, says. My lord, I still have the problem with the nature of man. PW1, put the context of the war, if we still keep asking the question whether the witness keep on supporting the LRA. Does not make it relevant. Caleb Alaka down played.
We wonder where you are heading at, he asks, just this person you are mentioning did you know other names, the witness answered, I found he was called Lapwony Latoni,
Alaka asked the witness, when you were brought by Thomas Kwoyelo Uncle to become rebel's collaborator, why did you not report to the UPDF? Thank for that question, if you are reporting why property and people at your home would be destroyed. Are you telling us that the UPDF could not provide security for your people? Am talking about the government of Uganda could not protect you.
The witness sort back that because I was told am to be rebels collaborator
The first witness on Tuesday. April, 18, 2023 who was putting on wood told court that he was an intelligence officer working with UPDF, he knew Kwoyelo because one day in 2008 when he came back from LRA, the government asked him to follow him.
"When I went to him I found he had a gun, and we reported him to the government, where he was arrested and now facing war crime, and war against humanity, " he told the court.
The Third, Opiyo Makaci, who appeared in the afternoon secession, the former LRA Operation Commander says in 2006 during LRA and UPDF Juba peace talk, they were enrooted to Garamba Jangle in Eastern DR. Congo.
Kamuli asked him to tell the ICD court what he knew?
Opiyo Makaci, says. In 2006 during peace Juba peace talk, all information coming from Uganda by the LRA combatants before reaching High Command both Joseph Kony and Vincent Otti, it was an order to pass through him.
Even any goody before being handed to Otti or Joseph Kony must pass through his office, because for the protection of the two against any dangers I must know.
But, as Juba peace talks advanced, people who visited Otti or Joseph Kony, or any information, things were wired, people were not respecting his office.
And by that nature, information started coming that the two heads of rebels were not seeing eye to eye.
One day, they received information that Joseph Kony had wanted to meet them, the all commander, Okot Odhiambo, Abudama, I Opiyo Makaci and others.
Otti and all the commanders which were summoned came to his office, but I told them that he was sick, and Otti, Abudama, Okot Odyambo all went.
However, for him he had picked a global position GPS and his wife and some guns ready to move out of LRA, but he was stationed nearby to monitor the activities which were taking place in the LRA top command.
When the gun short was fired, he knew that things was bad, he decided to move to Kisangani, from Kisangani he got air transport and went to Kinshasa where he telephoned Kampala, and later connected to Col. Walter Ochora, and finally he was flown back to Entebbe.
Caleb Alaka, dismissed Opiyo Makaci plea, told court that what he testified could not pin Thomas Kwoyelo, because what he told court is things which took place in Garamba jungle.