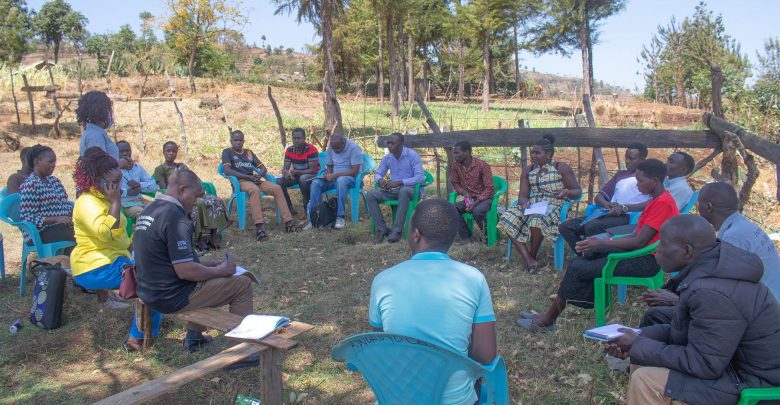 Indigenous young leaders in Uganda are blazing a path to a better future for young people
"Courtesy of the RHRN-II program, I have been in spaces where young people raise our voices – not only as young people but for our territory, for our rights, for our principles, and our culture," she said.
By Dorcus Sande
Chebet became a mother at the age of sixteen. Adolescent motherhood is common in her rural community in the Mengya indigenous territory, deep in the Elgon mountain range.
Chebet is one of the cantons in Uganda with the highest rates of adolescent pregnancy, about 27 percent of young girls get pregnant.
During her pregnancy, many people assumed she would have to drop out of school; some even told her she would have to. She was expected to forego her education and future job prospects in order to stay at home and care for her baby. Chebet, now 18, has a strong sense of independence.
"From a very early age I have been very free to speak," she told the Right Here, Right Now – II (RHRN-II) Communications team.
This determination came in handy when she decided to further her education.
She attended classes throughout her pregnancy, walking six kilometers to and from school every day.
She went on to graduate and now intends to further her education and pursue a career in gender and human rights.
Chebet is not only determined, but she also has a gift with words, which makes her a role model in her Sabiny community.
"I have never been afraid to speak in public. I love participating in young people's spaces where I can be myself, where my opinion is valid and I can motivate more people to get involved," she said.
These qualities brought her to the attention of youth organizers, indigenous activists and RHRN-II staff.
In 2021, Chebet was invited to participate in RHRN-II-supported youth activities in her community, and she soon attended a camp for young leaders from around the country. There she learned about sexual and reproductive rights issues, including the issue of teenage pregnancy, contraceptive methods and abusive relationships.
"After I got pregnant, those issues mattered more to me," she explained. She wanted to be "a bridge of information within my territory and within my community, where I could tell my experience to other girls, let them know that they can take care of themselves, that there are contraceptive methods."
Community members often discouraged girls from using contraceptives because of the stigma against adolescent sexual activity. "They always scared us, saying, 'People will point you out if you go to the clinic to get an implant or to get the copper IUD'. So, I told them it's not like that. No one is going to judge them. They have every right to take care of themselves so as not to have a pregnancy at an early age and fulfill their dreams."
Today, she works with Youth Action Committee (YAC), a group of indigenous young leaders, to promote sexual and reproductive health and rights and challenge gender stereotypes in Sebei sub region.
"Many times, we as indigenous young people experience limitations. In some spaces, they believe that perhaps we are submissive, that we do not speak. That is motivation for me, to say, ´No. I express my opinions. I propose what I think, always respecting others."
She also hopes to dispel these myths at the national and regional levels when the opportunity arises.
When she is not doing housework, cleaning, or caring for her 2-year-old Kiprop, Chebet works at her family's small grocery stall.
She balances all of this with her responsibilities as a youth leader, which is a difficult role in and of itself.
She must take a 45-minute motorcycle taxi ride to the nearest town with public transportation to get to her various obligations.
But she says the effort is worth it.
"Courtesy of the RHRN-II program, I have been in spaces where young people raise our voices – not only as young people but for our territory, for our rights, for our principles, and our culture," she said.
She already sees how these changes are improving the future her son will grow up in: "He has grown up in spaces where he can be himself." He has no limitations. Many times, in our childhood or adolescence, in our communities, they take it upon themselves to tell us "you can't speak, don't give your opinion". My son is not like that. He asks questions. He is curious. "
In Kiprop, Chebet sees a better future for boys and girls in their community: "These are things that fill me up because I know that he is on the right track."