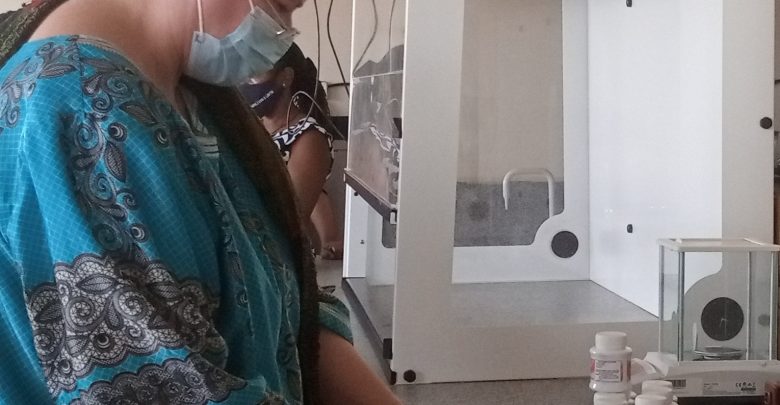 The WHO visiting teams impressed about the COVIDLYEC1 products herbalist remedy
In strict sense no vaccine should not be given before clinical trial, for example Dr. Alice Vaccine Lawmaker COVILYEC1,   no product should be given to Human being without clinical trial. Most of our innovators came out with their innovators that need clinical trials.
Investigation teams, why Dr. Alice Veronica Lamwaka COVILYEC1 trail seem to hit sunk led by Okumu Livingstone Langol (Oyeng Yeng News)
GULU CITY-UGANDA: The WHO visiting team to Gulu University on a fact finding on COVILYEC1 claimed by Dr. Alice Veronica Lamwaka that she has discovered the African herbal medicine to be the cure of COVID-19 are impressed. Says the WHO wants to standardize the production for the global world to accept the treatment. Not for Africa and Uganda only.
Prof. Joseph Okeibunor, the Head WHO African Regional  Office, says World Health Organization is on the point for standardizing the COVILYEC1, so that it can be accepted in Africa, and globally not only in Uganda here.
Prof. Okeibunor adds that World Health Organization has put health Science so that they can help in this effort; there are difference types of support we are proving which doing something here that why we have come here to witness
The African WHO chapter Director on   COVILYEC1 OF Dr. Alice Veronica Lamwaka notes that we realized that there is a lot of Indigenous Knowledge that needs to standardize for the WHO to support their outcome.
"I am very impressed on what she is doing, we are all impressed, why does the ministry of Health still need the COVILYEC1 products to undergo clinical test and yet the report from the patient's testimony that they have been treated by the COVILYEC1 product, clients have testified to get heal." Prof. Okeibunor testified.
Hon Tony Awany, the MP for Nwoya County, chairman Parliamentary Select Committee during their impromptu visits to Gulu University says they want Gulu University and other Universities that has not been given attention to the funds should also be get funding too, we want the issues to be debated before parliament so that Gulu University should be funded fully not as ''cash bonanza''.
He stressed that with COVILYEC1 is signatory price for Uganda, we want it to be given attention, the issue of clinical trials, directing attention particular, says  you Dr. Lamwaka COVILYEC1 and Dr. Ogwang COVIDEK your languages appeared to the same with Prof Ogwang.
"They want to gauge you people, the big Pharmaceuticals will not like to see your products, who told them that good things will not come from Africa." Hon Tony Awany warns.
Tony Awany says his select committee of science and technology that was put to investigation by parliament was instituted by the speaker of parliament of Uganda, following the allegation that was rolled before on the floor of parliament by honorable board chairman MP for Mututgamu municipality. Mr. Yona Musingusi. He alleged that there was gross miss appreciation of the funds that were allocated for COVID-19 development of covid-19.
That was allocated for the COVID-91 for vaccine development of that was misappropriation of funds that were allocated for development of lucrative and diagnosis in a bid to combat the emerging situation of covid-19.
Tony Awany says, because the allegation was so great, the. Speaker Deputy Speaker Anita Amongi the rights honorable at her wisdom established this select to investigate and get to the root course.   Of the matter that was raised on the floor of the parliament.
"The committee was not established to get judgments but, to get to the root cause of the issues, to get to the fact of the matter there were some terms of reference and roll out to the selective committee and I would like to numerate them on the terms of reference to guide us.
There was some term of references that were given and rolled out to the selection committee are as follow:
"To examine the progress so made, toward development covid-19 vaccine.
To establish the amount of funds so far released for the purpose of development of vaccine.
To appraise the utilization of the funds whether they were being used correctly or whether they continue to be used correctly.
We have been task to examined the challenges so far faced in the development of the vaccine and so in the development of the drugs pathology if it there plus the diagnostic
We have to enquired matter incidental the practice development of the vaccine and also we have been tasked to examine any development process and this is where Gulu University comes in. We are aware of Gulu University Multi Purpose laboratory that have here. We got to learn it at a quite recommendable level." Hob Tony Awany elaborates." Hon Tony Awany the Chairman of the Parliamentary Select Committee revealed.
He further says that is why his Committee has decided to visited Gulu University, "We thought, we should come and have interaction with you people; also we have come to learn from you if we can put the laboratory to use."
Then, we have been told to examine the capability and capability of the facility for the   COVID-91, the development, and there after we have to play our part
We are aware that Gulu University is coming with the remedy of covid19 by Dr. Lamwaka the COVILYEC1 so we thought we should come pay homage to Gulu University
Tony Awany asks Gulu University and put the questions before them as follows:
When the lab was established? What is the current level of Gulu University bio safety lab?  Is possible it can be upgraded and what does it take to be upgraded?
Later on Dr. Prof George Penyjuru Ladaa says Gulu University is Government University established by Act of Parliament, Gulu University has capacity of 5000 student, and the University is for transformation for society
"Of course the multipurpose laboratory has developed the Northern Uganda immensely, the laboratory has helped the university to save money since then they were taking students to St. Mary Lacor Hospital." Gulu Vice Chancellor remarked
He farther notes that Gulu multipurpose Laboratory is led by capable director Dr. Esudu. " I am happy that President Museveni pledged to give us UGX3.7 Billion." However, the fund was not yet release to Gulu University.
Prof. Penyjuru Ladaa, request Tony Awany through the Parliamentary Select Committee on Education to lobby the parliament of Uganda to give them research fund.  Citing that for year Makerere University has been getting UGX 30 billion, for the last three year they have got UGX 90 billion, where Gulu University has been getting from them, we want the research fund to be given directed to us, not in milk from.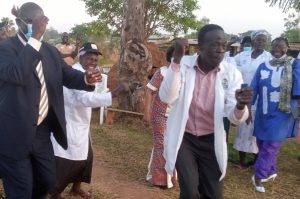 He echoes that, with this remark, I want to invite Gulu University, the researchers and scientists to make their presentation, beginning with the Director of multipurpose lab.
Robert Richard Esudu, the Director of Gulu University Multyi Purpose Laboratory in his remark acknowledged that Gulu University Multi Purpose Laboratory is getting funds from the government of Uganda and from African Development Bank and the funds to construct this multipurpose laboratory we got from United Kingdom at the tune of 4 million pound
"This laboratory is a great relief for us, we used to travel to Mbarara and even go outside the country to look for laboratories. If any expensive laboratory in eastern Uganda and North, then this multipurpose lab. We knew that Ebola and this COVID-19would come if we had this lab. This would be a huge opportunity for the people of Gulu City to develop from the lab."
Currently we could handle four areas which we are managing in the lab; we are doing something in plant health, food health, animal's health and climate change.
There is some equipment that cost UGX 600 million and there are two equipments that each cost the same amount.
Dr. Lamwaka in her both presentation before the Education Select Committee and WHO visiting body says Gulu University is a public entity. The government of Uganda through her organs made an announcement during the COVID-19 pandemic that research in Uganda is carried out freely more so during epidemics.
Secondly, in response to the call, Gulu University like any other Universities in Uganda, responded by engaging into the research of herbal medicines available in Northern Uganda, that could handle and eradicate COVID-19 virus and other comorbidities. Including but not limited to other conditions such as sickle cells, cancer, peptic ulcers, asthma, diabetes and hypertension which are ongoing.
As Intuitions of higher learning we are also mandated to carry out research apart from teaching and community engagements, we came up with these great ideas, because we have the expertise and knowledge to work as a team in developing novel products.
"I would like to remind you that Acholi Sub Region is very rich in biodiversity which is our biggest strength in many future scientific breakthroughs! On this note, the university should think of acquiring all cultural sites on offer as a good source of exotic medicinal plants." Dr. Lamwaka explained.
Dr. Lamwaka as a Pharmacist says she trained herbalists with very high scientific knowledge on plants that have curative properties.
She claimed that traditional medicine has been used since time immemorial to improve health and nutrition, based on indigenous knowledge and indigenous knowledge systems we went ahead to assess for active photochemical that were then compelled to analyses, crudely standardized for use in the suspected action and uses community while the next step was to go scientific and isolate the exact chemicals that were responsible for target therapy.
However, due to lack of funding we could not proceed, our next step forward is to carry out clinical trials with designed protocols since the positive response we were getting were anecdotes from those who used the formulated therapy.
"I am glad to report that the clinical trials protocol of Gulu University is already circulating amongst the concerned stakeholder, the first meeting has already taken place between the Directorate of a reasonable work plan and budget which was completed."
Dr. Lamwaka disclosed that through testimonies and laboratory observations, COVILYEC natural products have anecdotally been said to clear remain in patients within 12 hours to 72 hours of therapy. This speculation requires further scientific studies to prove the claims.
The result of the study will help us to set up a traditional medicine hospital in Northern Uganda alongside modern systems, this will as well improve on the socioeconomic status of the community who are the knowledge holders, time allowing, it's important to walk to where they hold their activities for experimental purpose, the place is not yet fencing off the area for security reasons because with international publicity, all eyes are on the University. This calls upon WHO support towards conservation of Biodiversity, we are already in the process of setting up a living Gene, Bank. However, at a very slow but sure pace due to lack of funding.
The stand of health ministry
The Ministry of health directed that clinical trials should be carried out at Gulu REGIONAL Referral Hospital, including St. Mary Lacor Hospital as well since both have been our teaching hospital management needs to support us by drawing up an MoU with the facility.
"Ministry of Health has verbally mandated us to set up the unit at Gulu Regional Referral Hospital, an official communication to follow, with the Commissioner responsible amongst us here, I am certain that she will relay the message back to the ministry and make follow up. Mrs. Neville Oteba, kindly be a strong bridge between Gulu University and Ministry of Health and today is a step made for the good of our country
As Gulu University, we are now set for clinical trials, but we lack funding, President Museveni made a pledge of UGX 3.7 billion towards this without COVID-19 pandemic, the medicines are still useful in the management of other health conditions. We have been practicing this for the last 9 years since the introduction of the Pharmacy programs at Gulu University.
Dr. Lamwaka requested WHO to give them support in term of finance for the production of COVILYEC1, and also to set up a traditional medicine Hub at Gulu University, we have trained over 500 indigenous knowledge holders who are currently carrying out health related activities alongside the Village Health Teams and Local Councils, they have been known to be trusted by the community after undergoing the 5 week intensive training.
COVILYEC1 research finding unveil
Dr. Lamwaka says COVILYEC1 natural products is unique research experience which is difficult t cover and keep underground, particularly where there is anecdote evidence of massive full recovery from clients coupled with a dramatic reduction in infection rate in the Acholi Sub Region where the formulations were done and the entire country where it is being consumed!
"This loose information caught eye the of President Museveni, later Mr. Museveni invited  the Vice Chancellor, University Secretary and I to meet him at state house Entebbe where he offered UGX 3.7 billion to support my clinical trials and another UGX 12 Billion to construct a Pharmacy Pharmaceutical biotechnology and traditional medicine centre of excellence." Dr. wondered that the institution has never got the funding
However, she notes the short fall is inadequate data on safety and efficacy evaluation of natural products of indigenous, crude products and fine extracts. Ethical considerations for study design and conventional standards that cannot be matched with natural ones which have several photochemical.
She elaborates that quality control of natural products is not easy due to varying sources and geographical locations, lack of infrastructure especially targeting natural products. Others, lack of financial support to concrete community engagements, lack of logistics to facilitate benchmarking and technical exchange programs.
In her conclusion, appeals to WHO should form regular partnerships with Gulu University to promote regular research and training in natural products including enhancing curriculum development for teaching of students as part of preparation of Human Research for Clinical Trials and Health.
Dr. Moses Ochan, from Makerere University head of Pharmacology insists that Dr. Lamwaka should provide them with enough information concerning COVILYEC1 before the product is released.
Dr. Ochan says no product should be given to human beings, it will kill them, and the COVID-19 which is being vaccinated to people against CIVD-19 has the information, although it is at trial stage we have to use it.
Dr. Ochan argued that COVILYEC1 has some challenges because they have not got enough information, we have formed a department at the Ministry of Health Science called Corona Virus Research Department CONARD, and this firm is a proving platform for clinical trials. We need innovators to give us their production for approval including samples.
"Dr. Lamwaka says a report from the clients who took the medicine and they are saying they contest that they are okay after taking COVILYEC1, this anecdote. You cannot use anecdotes; the Uganda Bureau of Standards UBRS gave Dr. Lamwaka used the product as a supplement along with the COVID-19 vaccine until she presented the information." Dr. Ochan noted.
Dr. Loum Regional for Acholi Sub Region, on Thursday March 10, 2022 during the COVID-19, review says the current vaccine that is being vaccinated against the pandemic has no side effect and is not on clinical trials.
Dr. Loum disclosed that vulnerable groups that include older ages will get the COVID-19 vaccine from their home, and says that there about 17,000 elderly people who could not travel long distances for immunization.
When asked about the side effect of COVID-19 since Dr. Ochan from Makerere University Science says,  "it better to allow  people be vaccinated with the current COVID-19 vaccine rather allow people to died with the COVID-19, since the  innovators big world Pharmaceuticals have enough information."
"Who told you  COVID-19 vaccine is still on  clinical trials, if you have the data about the side effects to prove it, then tell us, otherwise you just come here to eat our and ask those kinds of borages  questions.  Go away, I'm going to stop you from attending any of health meeting." dejected Regional Coordinator Dr. Loum roared.