ACHOLI PARLIAMENTARY GROUP NEED TO BOYCOT PARLIAMENT ON APAA LAND GRABBING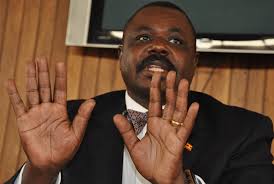 What has Jacob Oulanyah the Deputy speaker of parliament done as a person to address the issue of Apaa land conflict? What has the Chairman of Acholi Parliamentary Group done to address the land conflict in Apaa, what is he doing since people continue to die?
GULU-UGANDA: A don from Gulu University who wants to remain anonymous in his analogy described Members of Parliament from Acholi Sub-Region as one of the worst, greedy and most divided Ugandan legislators.
"The MPs from Acholi Sub-Region are much disorganized and there is disunity among themselves, otherwise, the issue of Apaa if it was in other regions like Lango, Bunyoro, Buganda or Western Region the matter would have been sorted out politically." The political observer asserted.
 He added that the issues of Apaa now is between Anthony Akol the MP for Kilak North and Gilbert Olanya the MP for Kilak South. "I believe that if the MPs of Acholi were fighting for Apaa as a team, the government of Uganda would have a fear, now that government saw disunity among the Acholi MPs, they have seen where the weakness is, so they are able to do what they are doing." He further noted.
And to be honest, where the issue of Apaa have reach now requires the commitment of the MPs to fight as a team. But the National Resistance Movement Party MPs look on at the opposition members, and yet the communities that are affected are not only opposition, but all the Acholi regardless of parties.
The significant problem each MP has adopted is "as long my constituency is peaceful I have no problem," and this attitude of "the problem of the other I don't really care."  Which is bad for the communities, the political observer insinuated.
"Suppose Acholi MPs boycotted the Uganda Parliament, and they all say let us resolve the issue of Apaa before we go back there. Let us take one week; let us put the issue of Apaa in this way, Jacob Oulanyah, how have you been doing as yourself to address the issues of Apaa land conflict?"
The Chairman of Acholi Parliamentary Group Hon. Morris Ogenga Latigo, has he ever tried to address the Apaa issue? He should be asked what he was doing all along. Because people are continuing to die in Apaa. The UPDF soldiers who were supposed to protect the civilians, the Uganda Constitution mandated them for, are maiming people's legs, graves are being opened up and their corpses burnt to kill the evidence of the murders, (sic). What the hell is going on with our Uganda legislators?
How do you compare the Acholi, West Nile, Lango, Teso, Bugisu, Bukedi, the Greater Buganda, and finally the Western Uganda Parliamentarian Groups? When you consider the Lango Sub-Region Members of Parliament, when one of the Indian community members killed a young Langi boy, all the MPs in Lango Sub-Region came as a team, they strongly reacted to that incident that completely attracted immediate attention of the government of Uganda and the matter was quickly resolved because the locals wanted to expel all the Indians.
But when the Deputy Mayor of Gulu John Oola was killed, the matter became "only" a family issue, and also when the Gulu District Sports Officer was killed by unknown assassins, Gulu District authorities rushed to condemn him that he committed suicide, no Acholi MP took up both the matter.
However, when we are talking of Bunyoro MPs now they are fighting for their shares in oil royalty. They are fighting as Bunyoro Parliamentary Group not as opposition MPs. You go to Western Uganda MPs, the issues of politics or division a long political party line has only happened during election campaigns. But after election MPs people shared development programs together and people benefited equally in development programs irrespective of their party's affiliation.
Thus, when if you draw such example compared with what is happening in Acholi Sub region. You find a different thing.
National Resistance Movement party development programs, when you take for example the "Operation Wealth Creation" which should have benefited all the Acholi community, the NRM party members and their MPs are almost the only primary benefactors.
Then there is an issue of "who is loyal and who is loved by the Uganda dictator president Museveni? This is the issue here in Acholi Sub-region.
"A case in point, happened in Kitgum District when the NRM office block was in arrears totaling to Shs.26 million, the landlord was demanding Hon Oryem Okello that he needed his money for almost a year, but when Hon Beatrice Anywar crossed the floor from Independent MP to NRM Member of Parliament. President Museveni when he realized that Mrs. Anywar had crossed to his NRM party, he called her and gave the Sh.26 million. Anywar rushed to Kitgum and paid the NRM landlord."
Hon minister Oryem when he learnt that the Uganda dictator Museveni gave the money to Anywar, he began to grumble, complaining that how could Museveni give the money to a newcomer, to the extent of even saying Museveni even killed his father, the former Uganda President Okello Tito Lutwa.
"It's for this reason  the MP groups of Acholi and Teso  Sub-regions who are NRM members in parliament performed  poorly because these MPs feared to show any opposition to any proposals made by their other members and by their big man." The political analyst asserted.
He added that, at least somebody should keep quiet to buy the loyalty of the party. Otherwise the best MP came from the Busoga sub-region, Abdu Katuntu and followed by Meddie Ssegona (Busoga), Tinkamisire (Bunyoro), Ssekikubu (Buganda) Nandala Mafabi (Bugisu), Gerald Byaruhanga (Rukungiri), Winne Kizza (Kasese), and Nsereko Muhammad (Kampala).
But you can rarely think that an MP from Acholi and Teso Sub-regions can perform better with the exception of Odonga Otto who is always known for controversy.
Are Acholi and Teso condemned to the criminal?
Always when Uganda tyranny President Museveni on a walking visit to Western Uganda, he always donated each group Shs.100 million, but when he came to Gulu or Kitgum in Acholi Sub-region, Museveni fed people with meat and rice only, the little contribution he always made is Shs.65 million for youth livelihoods.
When Gen. Salim Saleh, the president's brother was in Kasese recently, he gave Shs.600 billion to Ruwenzori  Sub-region, what crimes did we committed not to deserve these billions of money, not even at least Shs.100 million.