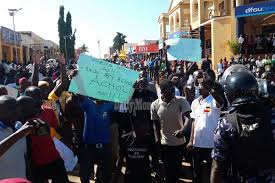 UGANDA: PEOPLE'S POWER LEADER SHOURT IN GULU CITY DEMONSTRATION, ON CRTICAL CONDITION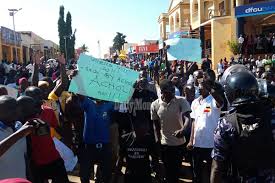 The main stream leaders of opposition parties BOYCCOT Gulu demonstration, Norbert Mao, Presidential General for Democratic Party and Leaders of opposition Betty Aol Ocan MP for Gulu Municipality were missing in action on Tuesday June 4, during Gulu demonstration.
GULU-UGANDA: The renowned Gulu Musician turned political activists was short on the head by Uganda notorious police Forces early this morning in Gulu City.
Otim Bosmic used music as a weapon to hoodwink Uganda tyranny Museveni 33 years rule, the People Power was leading Opposition demonstration against Dictator Museveni sole candidature.
Otim Bosmic is in a critical condition, short on the head by Gulu Police Forces order by SSP Ezekiel Emito a crack down to quell People's power peaceful demonstration.
An eyes witness account intimate that the popular Gulu base Musician Otim started a small gathering by producing songs in Luo, the most loved by Acholi community "Mac Onywalo buru" fire begotten ash. His songs pull thousands of on looker to join him, sources revealed.
"Gulu police were caught an aware," by the time security operatives learned about People's Power demonstration, over five thousands people were on the matching." Eyes witnesses recalled.
According to impeccable politician vineyard in Gulu City, intimated that 14National Resistance Movement NRM, the ruling party in Gulu endorsed Dictator Museveni as single sole candidature to stand in Presidential Election schedule in 2021
Ends