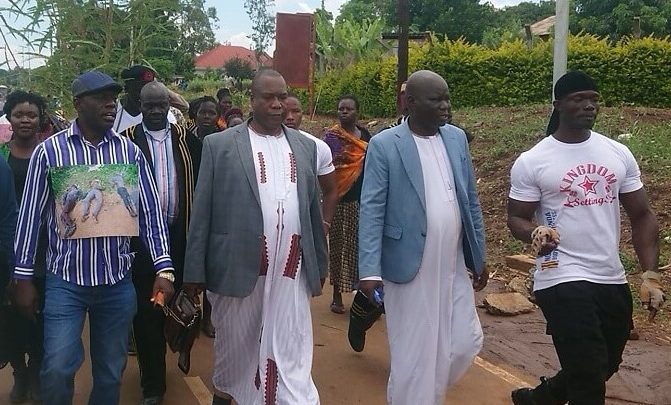 UGANDA: DISTOOLED ACHOLI PARAMOUNT CHIEF RWOT DVID ACANA II, ON DEMONSTRATION AGAINST APAA MASSACRE-ACHOLI MPS CONDEMNED MUSEVENI APAA DECLARELATION.
Acholi MPs, and Rwot David Onen Acana II, lead a peaceful protest
against President Museveni backed Madi annexation of Apaa, Amuru
district.
GULU CITY-MONDAY 3,2023:
Excited Youths of Pabbo Town Council, Amuru district in Northern
Uganda went wrathful welcoming Rwot David Onen Acana II, as he
leads peaceful demonstration against 29 Apaa people massacred by
groups of marauding guns wielding.
Rwot David Acana with dozens 17 Acholi chiefs loyal to his Acholi
chiefdom functions is leading yet another Acholi land unrest against
President Museveni 38 years' reign of power. This came out in the
background where 4 people, on Wednesday 30, August, 2023 was killed
in cold blood by Madi people who hailed from West Nile Sub Region.
Rwot Acana II, says he wants to go to Apaa and mourn his subjects who
have been killed, in Acholi the issues of the murder are discussed at the
scene where killing takes place, but there are those who say they
preferred to discuss the death case in comfort rooms.
"Now, I am leading my people to go and witness what happened to my
people in Apaa, there are those who think, 29 people killed in cold blood
because of land grabbing in Apaa are dogs, am going to move with
Oboke Lwedo, just course blessing from our Acholi grandfather." Rwot
Acana II declared and set forward to lead the moves.
Anthony Akol, the MP for Kilak North, yesterday, Friday 8, September
2023. Outlaw President Museveni Seven teams of Judiciary Land
Commission, says President Museveni by making political
pronouncements in Gulu City, the heart of Acholi Sub Region that Apaa
40, 000 square kilometers is in Madi, has shown his biasness.
"I want condemned President Museveni open declaration that Apaa is in
Madi, not even in Adjumani district, President Museveni has shown his
interest that in Apaa, and even the Apaa land Inquiry Commission
Judiciary is bias, and yet for last 12 years since 2011, 29 people have so
far been killed, and this year 2023. Over 300 huts have been burnt.
Our people from Apaa who bore the burnt instead Uganda Police Forces
from Adjumani, Madi district have rounded them in pandader gari, taken
to the West Nile prison." The Chairman of Acholi Parliamentary Groups
APG decrees.
 Apaa women fall to conceive as men abandon them as the attack
intensified
Acholi paramount chief, Lawirwodi Richard Santo Apire condemns
the heinous horrendous murder of innocent 4 people in Apaa in cold
blood, saying he just covered up the wanton act of atrocity to draw the
attention of members of the Apaa Land Commission headed by Justice
Bart Magunda Katureebe to hoodwink them to follow set tone.
Alanyo Vicky 34 years old, is concerned that men have abandoned their
wives as they have abandoned their women for fear of their lives
On Monday, September 5, 2023. Alanyo who appeared to address the
Northern Uganda Media Club (NUMEC), Alanyo tears rolled down her
check the moment she opened up to talk to the media, The Apaa
hegemony wanton destruction of property, and ethic-based violence of
the Madi community fainted Alanyo.
"The life of women in Apaa is in despair as men are on the run, a
mother could not conceive because there are no men to play their
conjugal rights, and stopped talking".
Acholi paramount chief elect Rwot Richard Santo Apire in a comic
press conference outlawed the Apaa massacre of Acholi residents of
Apaa, saying it was just a cover up of a heinous plan grabbing land.
Rwot Apire condemns in the strongest terms, the horrendous murder in
cold blood of the four Acholi residents of Apaa. Infliction of grievous
injuries to dozens of people including women, the last killing which took
place last Wednesday, August 30, 2023, in Amuru district.
"The confirmed abduction of four people taken to an unknown
destination, all these acts of terrorism were inflicted by armed assailants
suspected to have originated from Madi on the evening of Wednesday,
30, 2023. This mindless violence includes wanton destruction of
property, looting and of food items demolition and touching of huts
razed to the ground." Acholi paramount chief elect roared.
Rwot Collin Binyi of Pagak, Lamogi. Who read the press statement on
behalf of the interim leadership of Ker Kwaro Acholi under the
Lawirwodi Richard Santo Apire. We joined in solidarity with the
citizens across Uganda to say. "No" to ethnic-based violence.
The grotesque pictures of the dead and wounded, and smoldering huts
have filled us with disbelief, terrible sadness, and a quiet, unyielding
anger. This dastardly occupation of their home in Apaa"
Okoya Charles, Village Chief of Apaa backed Apaa Women Leaders
Alanyo's claim says the West Nile Communities comprised people
from Aringa community, Lubgwara community, Obongi community,
and Lutugu community so far disclosed 1,500 households from Punu
Dyangi Village from Apaa.
"We are facing ethnic clenching from the groups of people of West Nile,
not only the Madi community who we have lived with for years as
brothers and sisters. These new methods of attackers will stop you by
threatening your family, This will force your husband to abandon the home,
and the remaining people, children, and women, will keep asking where
your husband is. And when the pressure exerted upon that family, is
when one abandons his home and they keep on extending their threats."
Okoya narrates.
Ferdinand Ojera Secretary for the Village Chief of Apaa disclosed that
The contested grabbed Apaa land is 40 square kilometers, Most of the
areas have been demarcated by the invaders from the west Nile as follows:
Ovule John and Akut Geoffrey are in control of Kal Acut village, Obong
Muranga controls Punu Olot. While Joseph Baku the leader of the
marauding-wielding invader.
Others are Edama Alex who has been put as Local Council 1 Allais
Ogoga, Luluga and Punga Roo, Nalalina Edrigo, and Macro Rafhall  who
claimed to be a retired UPDF Captain.
We as traditional leaders remain committed to tracking the root causes
of these heinous acts of terrorism. While we recognize that plans are
underway for the recently constituted Judicial Commission of Inquiry
on Apaa to commence their work to determine unresolved outstanding
administrative challenges in Apaa.
Rwot Binyi reasons that one of the key functions of government is to
protect and secure the lives and property of citizens, we note and
appreciate the response of the government in stabilizing the situation
and appreciate efforts to restore law and order.
We are resolved to address this continuous threat by changing
cooperation at the grassroots level between customary leaders. We will
embark immediately on developing relevant measures to prevent and
tackle this phenomenon, including information-sharing and establishing
peace committees.
We urge the relevant security agents to institute urgent preventive
measures and put in place appropriate criminal justice responses by
thorough investigation of the incident which occurred on 30' August. All
Those who carried out this dastardly act and their collaboration must be
made to face the full force of the law.
Additionally, we are further concerned that those cultural leaders from
Both Acholi and Madi sides who had been provided sufficient resources
of up to UGX 100 million each may not have done enough to put in
place measures to de-escalate the mindless acts of terrorism which
have now ensured.
The Apaa conflict has claimed 37 lives since 2011. Hundreds of people
disappeared, while dozens of youths arrested from Apaa villages were
taken to Amuru district and taken to Obngi Prison in Adjumani district.
Rwot Apire warns that whoever confirmed that Apaa 40 SK is in Apaa,
Let them come out with a 1900 British Colonial map, but not Nasser
Road MP of recently.