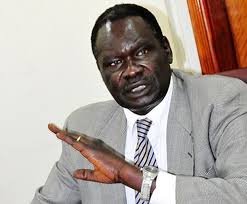 UGANDA:  DICTATOR MUSEVENI POSE TO APPOINT VICE PRESIDENT FROM ACHOLI SUB REGION TO PLACATE GENOCIDE SURVIVORS
Opposition figure adding for political marry under Museveni's reign
Two Districts police Commanders put under house arrest, Hilary Onek Disaster Minister survived arrest, drove in a breakneck speed to take refuge in president office.
 GULU CITY-UGANDA:  Highly placed source says Uganda dictator Museveni is decimated to be swears in for the fifth term presidency in Gulu City, which would put him one of the longest African president 40 years in office.
Okot Morris, the supporter of National Resistance Movement ruling party (NRM) says in confident that President Museveni planned to appoint the Uganda Opposition figure Vice President to neutralizing Western Power that of lately turned their guns to kick him out of power.
Okot says Museveni is to appoint Odoch Pagoda, his finance officer who over see NRM political campaign in Acholi Sub Region leading to NRM wins, besides zeroing on one of the son from the region who is one of the leading opposition figures. Odoch alluded.
"Odoch gave UGX 100,000 to each household in opposition strong areas to allow the entire NRM MPs candidates beaten oppositions parties candidate in the last 2021 parliamentary and presidential polls."
Odoch reveals that Hilary Onek deployed SPLA forces to blocked and still voting and when Molly Lanyero had learned what was happening she countered him by deploying martial art 40 boys from Gulu to guard all voting polling station in Lamwo district. But Kidega, the RDC of Lamwo arrested all those boys."
Later Lamwo DPC was arrested by the order from above,  now Onek is under house arrest, Kidega James  also is under house arrest.
Opwonya mike, market vendor in Gulu who is a residence of Kanyagoga A ward, Bardege Division reveals that four day prior to January 14, 2021 polls. Martin Ojara distributed UGX 10,000 to every household and also gave soaps and salt.
"This election was rigged by the NRM leaning candidates, Martin Ojara the Independent candidate got UGX 400 million, and Fr. Onen also got UGX 400,000." Opwonya urged.
Odoch Pagoda went his mission of distributing money in Pader and Omoro districts sources who have participated in voting saga say they have witnessed real poverty, people voted because of poverty, you find that the whole family cannot afford UGX 10,000, but because they don't have anything's, when you give them any money .
In Omoro district, Odoch each homestead got UGX 100,000. The all of Omoro community got their voting money. Later, a week ago, this forced Eng. Olal Obong reach Odoch Pagoda rang him that now why did you let me down.