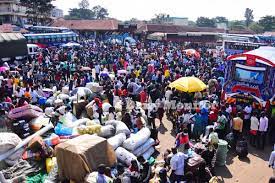 UGANDA: COVID-19 LOCKDOWN AND THREE DAYS ULTIMATUM BY PRESIDENT MUSEVENI TO BUS OPERATOR WAS IT CALL FOR?
Was it called for a three day ultimatum lockdown for public transport, which is crucial for transportation? What if President Tibahuwbarw Museveni gave a one week directive to the ministry of education to send school children home in orderly manner to avoid overcrowding that has become the sources of another covid-19 pandemic infection, now who to blame?
BY Wednesday June 9, 2021 about 260 school children who was tested in Gulu 47 found positive with COVID-19 pandemic, on Thursday June 10, testing center at the office of Director of Health Gulu City, out of 10 children tested 2 was discovered positive found with COVID-19 pandemic.
GULU CITY-UGANDA: On Monday June 7, 2021 centrally located in Kampala, Namayiba Park, Bus park terminal was parked with school children to capacity that has resulted in school children sleeping on one another an eye witnesses narrates.
According to Uganda Police forces disclosed that over 10,000 people was present in Namayiba bus park terminal in Kampala alone, this purely because the bus cost was hiked up from the usual UGX 50,000 was increased to UGX 170,000 from Kampala to Arua City in West Nile Sub Region, for the buses that was traveling to Gulu and Kitgum, the cost was hiked UGX 120,000 and 150,000 respectively.
While the transport cost from Kampala to western Uganda was hiked to UGX120, 000 and 170,000 from Mbarara to Kabale and Rukungiri, police said.
Muhwezi attributed the hike to high fuel prices and that buses travelling up county will be returning to the city with no customers.
He urges that they have not yet registered any COVID-19 positive passenger, adding that they have heightened enforcement of all SOPs to prevent the spread of COVID-19.
According to Uganda Daily Monitor Publication read, "Uganda's President Yoweri Museveni on Sunday re-imposed a strict lockdown that included the closure of schools and the suspension of inter-district travel to help beat back a surge in COVID-19 cases in the East African country.
The new measures, which will be effective from Monday morning, include the closure of all educational institutions, some bans on travel, the shutdown of weekly open markets, and the suspension of church services.
Most of the new restrictions, Museveni said, would be implemented for 42 days. An assessment of their impact will then help the government decide whether to ease or prolong them, he added."
In a u turn, the head of State House Anti-Corruption Unit, Col Edith Nakalema has ordered all bus companies which overcharged passengers, especially students and never transported them in the last three days to refund the fares
On 31 December 2019, WHO was informed of cases of pneumonia of unknown cause in Wuhan City, China. A novel coronavirus was identified as the cause by Chinese authorities on 7 January 2020 and was temporarily named "2019-nCoV".
According to the WHO, Coronaviruses (CoV) are a large family of viruses that cause illness ranging from the common cold to more severe diseases. A novel coronavirus (CoV) is a new strain that has not been previously identified in humans. The new virus was subsequently named the "COVID-19 virus".
On 30 January 2020, Dr. Tedros Adhanom Ghebreyesus, WHO Director-General declared the novel coronavirus outbreak a public health emergency of international concern (PHEIC), WHO's highest level of alarm. At that time there were 98 cases and no deaths in 18 countries outside China.
On 11 March 2020, the rapid increase in the number of cases outside China led the WHO Director-General to announce that the outbreak could be characterized as a pandemic. By then more than 118 000 cases had been reported in 114 countries and 4291 deaths had been recorded.
By mid-March 2020, the WHO European Region had become the epicenter of the epidemic, reporting over 40% of globally confirmed cases. As of 28 April 2020, 63% of global mortality from the virus was from the Region.
Since the first cases were reported, WHO has worked around the clock to support countries to prepare and respond to the COVID-19 pandemic?
In the words of Dr. Hans Henri P. Kluge, WHO Regional Director for Europe, "Through transparent knowledge-sharing, tailored support on the ground, and steadfast solidarity, we will beat COVID-19."
What is the situation now, in Aywee Health Center III, yesterday June 10, 2021 many people who turn up for testing COVID-19 pandemic with their children who have just been transported from Kampala look sick, the majority of them turned out positive.
Today Friday, June 11, 2021, the management of Aywee Health Center III have decided to close their gate and started testing whoever pays visits to their medical center.
One preacher claimed that even in the media campaign and advocating the COVID-19 pandemic, people know Jesus Christ came 2000 years ago, but his message has never captured the way the COVID-19 is being advocated by Devil worshipers, the preacher urged.
A third effective weapon was added to America's arsenal against the coronavirus on Saturday when the Food and Drug Administration granted emergency use authorization for a vaccine developed by Johnson & Johnson.
The company said it would start shipping millions of doses early this week, and would provide the United States with 100 million doses by the end of June. Together with 600 million doses of the nation's first two authorized vaccines, made by Pfizer-Biotech and Moderna, that are due to be delivered over the next four months, that ought to be enough to cover every American adult who wants to be vaccinated.
The new vaccine differs markedly from the two already in use in the United States. Here is how they compare.
This is the  vaccine that is the place for ignorant society and leaders who see any slighted opportunity and turn them into their political ploy, the lockdown on school and forcing them, three bus terminals in Kampala about 40,000 people to 100,000.
All those are the sources of COVID-19, this is a preemptive approach to the government to force Uganda to go a massive vaccination, and soon you will hear that the government will come with a grand position that for school to be open all school children must be vaccinated.
Scientific information indicates that the small pork vaccine, polio and the six killer disease vaccinations stay for life after immunization, but for COVID-19 pandemic the vaccine immune system is for six years, will not.
According to medical experts who asked not to be named, says COVID-19 has the alter violent cell that feeds off the normal, because the vaccines name it polio and other vaccines remain for life after vaccination.
The second theories, for the COVID-19 vaccine, are like other vaccines that expired after three years, now the COVID-19 vaccine is expiring, some are not. This means that the COVID-19 was made three years before a reported case by WHO was informed of cases of pneumonia of unknown cause in Wuhan City, China.
COVID-19 than ever before for an infectious disease. All of them are trying to achieve the same thing – immunity to the virus, and some might also be able to stop transmission. They do so by stimulating an immune response to an antigen, a molecule found on the virus. In the case of COVID-19, the antigen is typically the characteristic spike protein found on the surface of the virus, which it normally uses to help it invade human cells.
In summary, the latest lockdown of COVID-19 is the work of Satan, because Satan first causes fear in order to thrive well. The fear of infection is too much, now they will lose their cultural value and norms that keep them at bay to conquer demise and demons, (Gemo).