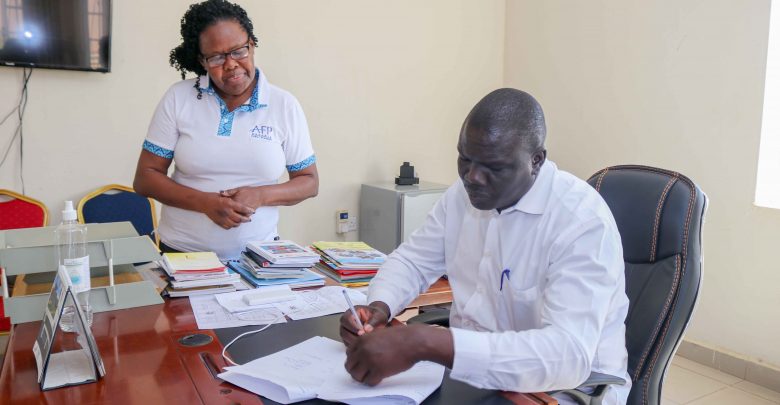 Karamoja communities to get free integrated reproductive health services
John Paul Kodet Ditecks, the Chairperson of Napak District, believes that this private-public health partnership with reproductive health Uganda and UNFPA will improve the quality of health services at the local government level and improve the health indicators in Napak District.
By Maureen Nakyazze
Karamoja, Uganda, "In the past, Karamajong women gave birth without assistance and did not come to the health centre. "Most of the pregnancies were unsafe," Gloria Angolere, a 28-year-old midwife, says.
Ms. Angolere is a member of the Bokora ethnic group of the Karamajong tribe, which makes up less than two percent of Uganda's population of 42.6 million. Based out of Namalu health Centre III in Nakapiripirit district, Ms. Angolere graduated from a UNFPA-supported midwifery training program about rape and gender-based violence (GBV) in 2021.
As a midwife, Ms. Angolere joins a growing number of providers in Karamoja combining world-class training and cultural insights to serve women and young people from the Karamoja region's dozens of ethnic communities – many of whom have historically faced maternal health risks due in part to the prevalence of home births, GBV, and rape.
According to the 2021 United Nations Population Fund (UNFPA) Indicator Survey, the national prevalence of violence against ever-married women by partner: physical violence: 22.3%, sexual (16.6%), physical and sexual (9.3%); all lower than violence against teenagers aged 15–19 years; physical (23.5%), sexual (16.8%), and physical and sexual violence at 9.4% respectively (UDHS 2016, UBOS).
To make it worse, more than one-third of births in the Karamoja region happen without the support of a skilled health provider, reflecting both the pervasiveness of traditional birthing practices and continuous obstacles to accessing care at health facilities. Many live far from health centres or lack transport to get to them. Language barriers and costs also serve as deterrents.
"I encourage women to give birth at health facilities to keep mothers and babies safe, but also report cases of GBV, rape, and test for cervical cancer," Ms. Angolere says.
Births without the assistance of qualified healthcare professionals put women at risk of deadly complications. An estimated 368 mothers die per 100,000 live births in Uganda—the 22nd-highest such rate on the African continent (World Bank, 2020).
Well-trained midwives and village health team (VHT) members in GBV, rape management, HIV, cervical cancer screening and pregnancy mapping can help avoid about two-thirds of maternal and newborn deaths, according to the 2021 State of the World's Midwifery report. Unfortunately, in the Karamoja region, as in many other regions around the country, midwives are in limited supply. Approximately only 32,000 of these are midwives, serving over 48 million Ugandans. This is the time to now prioritize women's needs and skills.
The number of nurses and midwives per 1,000 people in Uganda was reported at 1.2382 in 2018, according to the World Bank collection of development indicators, compiled from officially recognized sources. Nurses and midwives: actual values, historical data, forecasts, and projections were sourced from the World Bank in October 2022.
At the entry meeting events in Nakapiripirit, Napak, Moroto, Abim, and Kotido districts of Karamoja, Medical Coordinator Demeter Margaret Namuyobo spoke to midwives' essential role in integrated sexual and reproductive health vices in Uganda and their scarcity of adequate skills.
"Let's close the midwifery gap and build a strong country reproductive health workforce, with midwives, nurses, and VHTs," she urged.
Despite the challenges, the presence of women like Ms. Angolere represents significant progress. Training of VHTs, midwives, and nurses still goes on in Uganda. Until December 2022, the UNFPA and RHU will collaborate to build the capacity of VHTs and health experts to manage rape, family planning, emergency obstetric care (EMOC), antenatal care, GBV, and pregnancy mapping.
Interventions like these, according to Awuye Abdallah, CAO Nakapiripirit, not only help to connect victims and patients to timely health services, but also to improve the skills of government health staff.
But Dr. James Lemukol, District Health Officer for Moroto district, said the sexual reproductive health situation in Moroto leaves a lot to be desired.
Several statistics are silent because communities and health workers are not skilled in offering some services, but also because people are ignorant about reporting cases of rap and other GBV. Dr. Lemukol.
RHU and its partner UNFPA have been working with the government to support the training and deployment of community members and health experts across the country—especially in rural areas, where two-thirds of the population resides. This partnership has led to the establishment of a workforce of over 3,800 health workers and VHTs operating nationwide in 2021.
These efforts have contributed to significant improvements in women's and mothers' health. Uganda's maternal mortality dropped from 438 deaths per 100,000 births in 2011 to 368 deaths per 100,000 in 2021.