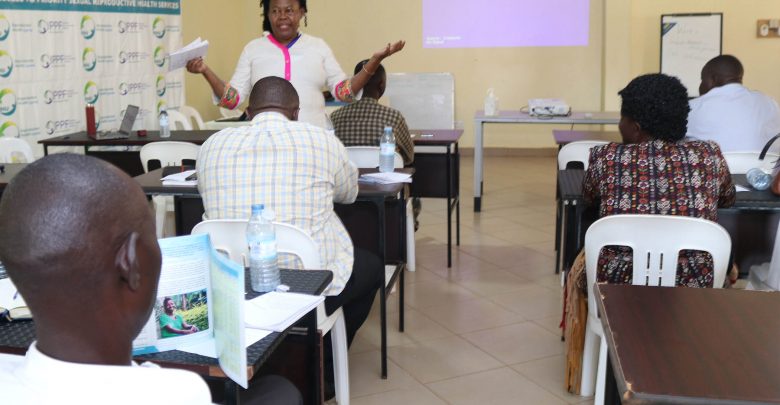 In Uganda's Lango sub-region, health teams learn about the I DECIDE project
The I DECIDE project aims to improve young people's access to sexual reproductive health (SRHR) services, skills for health work, resources, and opportunities in Lira, Apac, Aleptong, Kole, Kwania, and Lira City.
By Frank Okuga
Reproductive Health Uganda (RHU) and PLAN International have informed district health teams in the Lango subregion about the I DECIDE project.
According to Agnes Apio, a total of 28 District Health Teams (DHTs) and 20 Ministry of Health officials (MOH) from six (6) districts in the Lango sub-region were in attendance.
The I DECIDE project aims to improve young people's access to sexual reproductive health (SRHR) services, skills for health work, resources, and opportunities in Lira, Apac, Aleptong, Kole, Kwania, and Lira City.
Demeter Margaret Namuyobo, RHU Medical Coordinator, says children and young people in all their diversity will receive age-appropriate and quality sexual reproductive health services.
"Reproductive health Uganda services will offer services through training health workers, conducting outreaches, providing health commodities, quality data, and also establishing adolescent youth-friendly services in the six districts of the Lango sub-region," Namuyobo said.
According to her, with the I DECIDE project's orientation, health workers and village health teams (VHTs) will provide quality sexual reproductive health and rights services to young people.
"With better and youth-friendly sexual reproductive health and rights (SRHR) services, we can reduce maternal deaths, abortions, teenage pregnancies, early marriages, and street children in Uganda," Atim Victoria Sharon, Assistant District Health Officer (ADHO) for Apac district, says.
Joy Akello, a biostatistician with the Kole district local government, believes that by offering complementary SRHR commodities, the I DECIDE project will alleviate stockouts, allowing young people aged 15 to 24 to receive more and better services.
The I DECIDE project targets 30 health centers, 130 schools, and 112 village savings and loan associations (VSLA), among others, in order to reach out to 546,777 young people in the next four years.
The orientation was graced by RHU, PLAN, and Lira district leadership at Tasha hotel.
Dennis Otim Otto, Principal Assistant Secretary in the Office of the Chief Administrative Officer, has pledged to support the I DECIDE project, which aims to address reproductive health issues among young people in Northern Uganda's Lango subregion.
"Begin with your own home. I am glad that the strategies for this program, I decide, will also go down to homes to solve the sexual reproductive health and rights problems through access to services and sharing of information, "Otim said.
Jackson Chekweko, RHU Executive Director, said that young people face several challenges like abortion, pregnancies, maternal deaths, and school dropouts as a result of not making the right choices about their bodies and sexual behavior.
"We would like to see young people make good decisions about their bodies in order to avoid the reproductive health problems that come along with bad decisions," Chekweko said.
Martin Ogwang, I DECIDE Project Manager at PLAN International, believes that once health practitioners are trained, there are enough SRHR commodities and young-friendly spaces, and adolescents and youths in the Lango Sub region will have access to SRHR services.
Lawrence Egole, Resident City Commissioner for Lira City, stated at the end of the orientation meeting that Lira and the Lango subregion face many sexual reproductive health challenges, many of which affect young people, which the I DECIDE project can alleviate.
"If our youth are sick, our future population will suffer. Young people must be drawn in to ensure their health. This can only be accomplished by addressing reproductive health issues in communities." Egole said.
He encourages other health workers, village health teams, and educational institutions in Uganda to join efforts to capitalize on demographic dividends.
According to a recent Guttmacher report, 61% of child marriages occur in northern Uganda.
Every year, 25 out of every 100 teenage girls become pregnant, and 274,500 abortions are performed in Uganda.
Half of these abortions are performed on teenagers who become pregnant unknowingly.